Sunglass trends in 2022 include pastels, angular frames, gradient lenses, and white frames. The basics of buying high-quality eyeglasses include UV protection, fit, lens quality, and lens type. This will ensure your new shades offer the maximum amount of eye protection all year long. Be sure to book an appointment so that your vision prescription is up to date.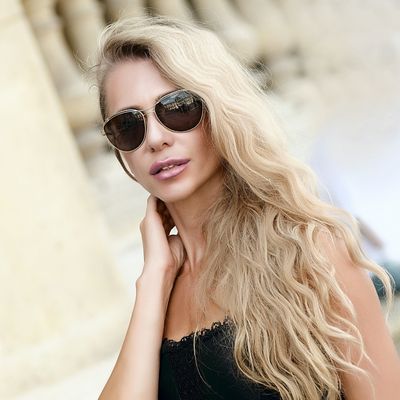 Sunglass Trends 2022
If you're searching for sunglasses as fashionable as they are functional then look no further. We have the latest in sunglass trends for 2022 to ensure that you're always in style. This year, the big fashion trends for sunglasses include:
Pastels

Angular frames

Gradient lenses

White frames
Pastels
Many people worry that paler shades will wash them out, but that's not actually the case. Those with lighter hair and complexions can easily pull off frames in light greens, pale blues, and soft pinks. But that doesn't mean you can't enjoy them if you have darker hair or complexions. In this case, you can take advantage of soft violets and sunshine yellows.
Angular Frames
The fashion-forward will enjoy the rising trend in angular frames. They can make a bold statement no matter your face shape, especially combined with bold colors. Square styles are ideal for offsetting round faces while rectangular frames can add balance to long faces. With bold choices like these, expect plenty of compliments.
Gradient Lenses
Lenses don't always have to be blacker than a moonless night. In fact, having pitch-dark glasses is on the way out. This has partially been pushed by the pandemic with people not wanting their faces fully covered by a mask and dark sunglasses. Instead, opt for lighter hues from soft pinks to blues to stand out from the crowd.
White Frames
Not wearing white after Labor Day is so last century. Once considered a summer color, white has become a year-round staple if you're willing to break the rules. White sunglass frames are a great way to ease into going against the grain, complimenting any summer outfit and brightening any dreary winter day. For bonus points, choose thicker frames with dark lenses.
For more sunglass-style ideas,
click here
!
How To Choose Sunglasses: The Basics
While it may be tempting to just grab a pair of sunglasses from the rack at your local drugstore, there are a few key factors that you should consider before purchasing your new pair of shades.
When it comes to how to choose a pair of sunglasses, you need to consider:
UV protection

Fit

Lens quality

Lens type
UV Protection 
A good pair of sunglasses will block both types of UV radiation — UV-A and UV-B rays. Look for sunglasses that block 99 – 100% of UV rays. You can also opt for lenses rated UV400+, which offer the same protection. 
Fit
Choose a pair that fits comfortably close to your face to prevent the sun's rays from slipping between your face and your frames. Frames with a close, comfortable fit will help ensure that you have 360-degree UV protection all year long.
Lens Quality
You will need to check the lenses and their tinting for imperfections that may impede your vision. You can do this by wearing them while looking at a patterned surface such as a tiled floor. Lines will appear straight with quality lenses but may be distorted if they're low-quality lenses.
Lens Type
Polarized sunglasses reduce glare from surfaces such as water and snow. Polycarbonate lenses are impact-resistant. Photochromic lenses (transition lenses) shift from regular glasses to tinted depending on the lighting so you only need one pair of frames.
Click here
to learn more about the importance of wearing prescription sunglasses all year long!
Prescription Sunglasses and Eyeglasses in Knoxville, TN
It's important to make sure your prescription is up to date when buying a new pair of sunglasses. This ensures that they help you to see clearly as well as protect your vision from the sun's harmful rays. 
At Hardin Valley Eyecare & Optical, we offer a full range of sunglass and eyeglass frames that are sure to suit your needs and style. We keep our optical shop fully stocked with the hottest brands including:
Kate Spade

Maui Jim

Ray-Ban

Georgio Armani

Tiffany & Co.
Dr. Travis Thompson and Dr. Catharine Abbott will help you update your eyewear prescription as well as find the perfect frames to fit your face.
Are you needing a pair of prescription sunglasses or eyeglasses in Knoxville, TN?
Contact us today
to schedule your appointment!
Sunglass trends in 2022 include pastels, angular frames, gradient lenses, and white frames. When choosing sunglasses, you need to consider UV protection, fit, lens quality, and lens type. These factors will help make sure that your new sunglasses protect your eyes all year long. Schedule your eye exam today to ensure that your prescription is up to date.
Hardin Valley Eyecare & Optical has been serving Knoxville since 2009. Dr. Travis Thompson and Dr. Catherine Abbott specialize in the diagnosis and treatment of a wide array of eye diseases, conditions, and problems and are committed to improving the quality of life in the Knoxville community through enhanced vision. Located at 10904 Spring Bluff Way, you can schedule an appointment online or give us a call at (865) 888-0892.