If you wear glasses then you know how frustrating the summer can be. Regular prescription glasses offer little to no protection from the sun's light and glare. Clip-on sunglasses are heavy and slide down your nose constantly if you sweat even the slightest bit. One solution would be to buy a pair of prescription sunglasses, but are prescription sunglasses worth it?
Prescription sunglasses protect your eyes from the sun's glare as well as from the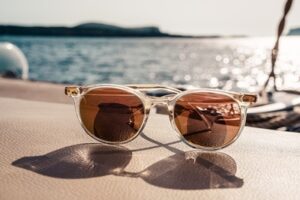 effects of harmful UV radiation. Finding your perfect pair will take a little bit of research. However, the extra effort will help you find a pair with all the features you need to protect your eyes and vision all year long.
In this post, we'll look at:
Why you need prescription sunglasses

How to choose the right pair of Rx sunglasses for you

Types of prescription sunglasses
Prescription sunglasses are more than a fashion statement. They're essential for protecting your eyes and vision from UV radiation, as well as seeing comfortably throughout the whole year.
Why You Need Prescription Sunglasses
Prescribed sunglasses protect our eyes and vision from both visible and invisible threats. One of the biggest invisible threats you face is ultraviolet (UV) radiation. UV radiation is energy created by the sun that makes its way to Earth in the form of UV-A and UV-B rays. Both types of UV radiation pose significant threats to your eyes as well as your overall health in different ways. 
UV Radiation
One of the benefits of our atmosphere is that it protects us from the many dangers coming from space. However, it doesn't provide much help against UV-A rays, which are able to slip through easily and reach the Earth's surface. Along with eye damage, UV-A rays contribute to premature aging, skin cancer, and inhibits your body's ability to combat illnesses.
Our atmosphere does a great job of preventing most UV-B rays from getting through. With that said, the radiation that does make it through can do a lot of harm. Like UV-A rays, UV-B rays also contribute to skin cancer, premature aging, and your body's ability to ward off illnesses. On top of that, they also cause sunburns and snow blindness. 
Failure to wear prescription sunglasses can result in damage from both types of UV radiation. Short- and long-term exposure both present dangers for unprotected eyes and can actually cause or worsen age-related eye conditions such as cataracts and macular degeneration.
How to Choose the Right Pair of Rx Sunglasses for You
UV radiation produces plenty of dangers to your eyes and vision. Fortunately, these negative side effects can be prevented with the right pair of prescription sunglasses. By investing in a quality pair of prescription sunglasses, you're ensuring that your eyes and vision stay comfortable all year long. It also won't hurt that you'll look cool while doing it!
UV Blocking
The first feature to look for in a pair of prescription sunglasses is one that blocks both types of UV radiation. Choose a pair that blocks out 99% to 100% of UV-A and UV-B rays. You can also look for sunglasses that are rated UV400 or higher, which means the same thing.  This will protect you from the threat of UV radiation by never letting it reach your eyes.
Fits Correctly
When it comes to frames, look for something that fits comfortably close to your face. You want your prescription sunglasses to offer the maximum protection possible, but this can't be done if sunlight is still slipping in between your face and glasses. A close, comfortable fit guarantees that you'll have 360 degrees of UV protection.
High-Quality Lenses
Avoid lenses with any imperfections in them or the tinting. Not only will this affect the lens's ability to protect you from UV rays, but it will also affect your ability to see well. While the main appeal of prescription sunglasses is to protect your eyes from harmful UV-A and UV-B rays, they won't be nearly as effective if they prevent you from seeing correctly.
Types of Prescription Sunglasses
Along with knowing how to choose the right pair of prescription sunglasses, it's also important to note the many features for lenses and frames available. Some are great options for anyone wearing sunglasses. Others may be helpful if you engage in certain activities where you would benefit from some extra protection.
Polarized lenses are one of the most common and helpful options for prescription sunglasses, or any sunglasses for that matter. Polarized lenses are designed to reduce glare from sunlight that is reflected off other surfaces like snow and water. They're perfect for outdoor activities on the lake, in snowy mountains, or even while driving. 
Polycarbonate lenses are made from special, impact-resistant material. They're ideal for physically active adults, people who work outside, or for children who haven't learned how expensive glasses are, yet. As an added bonus, polycarbonate lenses are also polarized!
Photochromic lenses, also known as transition lenses, are designed to shift automatically from clear to tinted depending on how bright the light is. Not everyone wants to carry two pairs of glasses around "just in case." With these lenses, you'll never have to. 
You face a lot of dangers from the sun and the UV radiation it emits. Fortunately, you also have a lot of options for protection. Take the time to find the best pair of prescription sunglasses for you, and consider opting for extra features like polarized or polycarbonate lenses. And don't forget to get your eyes checked regularly to ensure that they stay in perfect health!
Located at 10904 Spring Bluff Way off Hardin Valley Road, Hardin Valley Eyecare & Optical has provided the highest quality vision care products and trusted optometry services to our patients in Knoxville and the surrounding areas since 2009. Our eye care professionals are dedicated to providing exceptional personal service to each and every person who walks through our door. Call us at (865) 409-1253 or contact us to schedule your appointment.