The weather is hot, the sun is bright, and with social distancing guidelines, this summer has included more time spent outside with friends and family than doing indoor activities. While you're enjoying a dip in the pool or having a picnic in the park, remember that common summer activities can cause potential harm to your vision if you don't take the right precautions. To help you keep protected, we've compiled a list of our four favorite summer safety tips for your vision in 2020.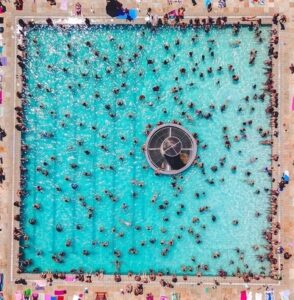 We'll look at:
Avoiding UV radiation
Investing in a pair of prescription sunglasses
Practicing sports eye safety
Taking out your contacts before jumping in the pool
At Hardin Valley Eyecare & Optical, we're dedicated to providing you with the best information and eye care available. Keep reading to learn more about how you can protect your vision this summer!
1. Avoid UV Radiation
The biggest danger to your vision during the summer is UV radiation, which can be ultraviolet radiation from the sun or from artificial light. It comes in two main types: UV-A and UV-B rays. UV-C radiation also exists. However, our atmosphere does such a great job of blocking it that it poses no real threat to us.
UV-A and UV-B radiation do make it through, though most UV-B rays are blocked by the Earth's atmosphere. Those that sneak by are the source of snow blindness, many skin issues, and our ability to naturally defend ourselves against illness. 
UV-A rays penetrate our atmosphere easily and cause:
Skin damage

Eye damage

Premature aging

Skin cancer

Weakened immune systems
While we are able to feel the sun's heat, we are unable to feel UV-A and UV-B radiation on our skin. This is why it's so important to protect yourself even if you don't think you're in danger.
You can protect your vision from UV damage the same way you would your skin. You can start by avoiding the sun when it's at its strongest between the hours of 10 am and 4 pm. This can change depending on how close or far you are from the equator. With that said, it's a good rule of thumb for everyone within the contiguous United States.
You should also wear a wide-brimmed hat when outside, even on cloudy or overcast days. This will protect your eyes and your face from the sun's negative effects. Doing so will protect your vision from long-term damage such as cataracts and macular degeneration. 
2. Invest in a Pair of Prescription Sunglasses
One of the best safety tips we can offer is to invest in a quality pair of prescription sunglasses. When it comes to protecting your vision from UV rays, sunglasses are more than a fashion statement. They're essential for you to be able to see.
Choosing a pair of prescription sunglasses is about more than the color or the shape. Finding the perfect pair for you will require some legwork. However, the final result will be a pair that offers maximum protection from UV radiation while also lasting you many summers to come.
The first thing to look for in a pair of prescription sunglasses is UV blocking. Look for a pair that blocks 99 – 100% of both UV-A and UV-B radiation. A rating of UV400 or higher is also good since it means the same thing. Whichever you choose, you can rest easy knowing that you're safe from the threat of UV rays damaging your vision.
You should also choose a pair that fits correctly. Not only should they fit comfortably and securely, but they should also fit close to your face. This protects your eyes from sunlight that may slip through the cracks between your face and sunglasses by providing 360 degrees of protection!
Last but not least are high-quality lenses. Choose prescription sunglasses that are free of imperfections in the lenses or tinting. For added protection, opt for lenses that are polarized, which reduce glare from the sun that gets reflected from surfaces like water or snow.
3. Practice Sports Eye Safety
You already know the dangers of UV radiation and the importance of having a quality pair of sunglasses. Now you need to consider the threat of eye injuries while enjoying your summer. This is especially true when playing sports. 
According to the American Academy of Ophthalmology (AAO), there are almost 30,000 eye injuries related to sports each year. Fortunately, this can be easily prevented by wearing the right protective eyewear. The risk of eye injury will vary from sport to sport, but the sports with the highest risk break down like this:
Basketball

Baseball

Softball

Airsoft

Pellet guns

Racquetball

Hockey
To best protect your vision while playing summer sports, you'll need eyewear that offers more protection than your standard pair of prescription sunglasses with polarized lenses. You'll want to invest in sports sunglasses or goggles with polycarbonate lenses. 
Polycarbonate lenses are strongly recommended for physically active people. They're made of impact-resistant material that is less likely to shatter upon impact and are much less likely to injure your eye. 
4. Take Out Your Contacts Before Jumping in the Pool
Swimming with contacts can pose a serious threat to your vision. You may associate eye irritation from swimming pools with chlorine, but the real offender is chloramine – a mixture of sweat, urine, dirt, and chlorine. 
This can be especially dangerous if you wear contacts while swimming in pools. Soft contacts are designed to be absorbent and breathable so that oxygen can get into the eye. But this means they can absorb other substances like chloramine, which can result in serious eye infections.
To protect your eyes from infection while swimming, you should:
Take out your contacts before swimming

Wear water-tight, protective goggles while swimming

Rinse your eyes out immediately when you get out of the pool
You should also take the time to practice good pool hygiene to protect your overall health. This includes showering before and after swimming, not urinating in the pool, and not swallowing pool water.
Have Fun in the Sun And
Be Safe
UV radiation poses a major threat to your vision health, both long-term and short-term. To protect your eyes, avoid direct sunlight from 10 am to 4 pm when the sun's rays are strongest and wear a wide-brimmed hat when outside. You should also invest in a quality pair of prescription sunglasses. If you play summer sports, consider buying sunglasses made of polycarbonate material. Also, make sure to take your contacts out before swimming. If you practice these safety precautions, you can enjoy fun summers with healthy vision for years to come.
Located at 10904 Spring Bluff Way off Hardin Valley Road, Hardin Valley Eyecare & Optical has provided the highest quality vision care products and trusted optometry services to our patients in Knoxville and the surrounding areas since 2009. Our eye care professionals are dedicated to providing exceptional personal service to each and every person who walks through our door. Call us at (865) 409-1253 or contact us to schedule your appointment.