We all want to have a happy Halloween, but the fun shouldn't come at the expense of safety. Whether you're going to a Halloween party or taking your kids trick or treating, it's important to protect your eyes from danger. Follow these eye safety tips to have the most spooktacular Halloween ever.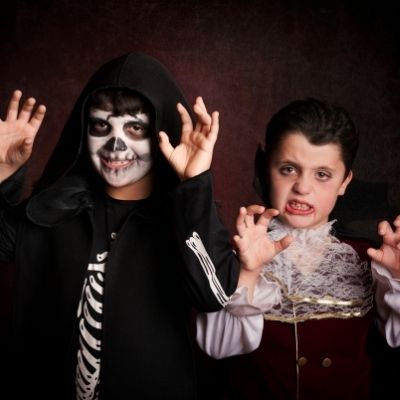 Avoid using a costume contact lens since they don't breathe as easily as prescription lenses. They can also lead to serious eye injuries and even vision loss. Be careful using face paint and makeup to avoid irritation and possible infection of your eyes. Use a flashlight when trick or treating and take off your eye patch as you walk door to door.
Costume Contact Lenses
You may consider costume contact lenses if you want to go all out for Halloween. While widely available online and in costume shops, getting contacts from somewhere other than an eye care professional isn't a good idea. It can even lead to vision loss in some cases. 
These decorative contact lenses can lead to serious eye problems, including:
Corneal abrasions

Corneal infections

Conjunctivitis
Cosmetic contacts don't work the same way prescription lenses with FDA approval do. The added paint and pigments actually make the lenses thicker and less breathable, which increases your risk of corneal damage and infection. This is why you should avoid decorative contacts from your local party supply store.
Because contact lenses are considered medical devices, they must be obtained with a prescription from a qualified optometrist. Dr. Travis Thompson and Dr. Catherine Abbott are more than qualified to sell contact lenses that enhance and protect your vision. If you're still looking to create a certain look for a Halloween costume, talk to us today about healthier options than generic costume contacts!
Want the most breathable contacts available?
Click here
to find out why daily contact lenses are the best choice for your eye comfort and health!
Facepaint and Makeup
Face paint and makeup are staples for getting the perfect ghoulish look, but they can also lead to problems. For one thing, you want to avoid getting any of it in your eyes since this can lead to irritation or even an infection. It's best to avoid putting any face paint or makeup around your eyes that's not created to go there, even if the packaging has people doing otherwise. 
Avoid old makeup and face paint. These products can expire and spoil, which can be bad for your skin as well as your eyes. It can help to smell any face products before using them since, like with food, expired makeup and face paint can develop an odor if they go bad.
Choose hypoallergenic makeup if you or your child needs makeup for your Halloween costumes. This will reduce the risk of an allergic reaction for you and your little trick or treaters. If you already have makeup and aren't sure if you or your child is allergic, you can do a small test on a patch of your skin before fully applying it for your costume.
Click here
for more about the risks to your vision on Halloween!
Trick or Treating
As summer fades and fall goes into full swing, there are eye safety tips you should keep in mind before going trick or treating. To start, make sure to carry a flashlight. It's easy to get caught up in the excitement of Halloween night and trip and fall. Keep your flashlight turned on as you go door to door to avoid tripping and falling, potentially leading to sharp objects in your eyes.
Eye patches are another staple of Halloween. Unfortunately, they also impede your depth perception and can lead to eye injuries if you or your little ones aren't being extra careful. To have a fun but safe Halloween, take the eye patch off between houses for improved vision and safety.
Want to make sure your vision is ready for Halloween?
Contact us today
to schedule an appointment!
Don't use decorative contacts since they can lead to serious eye problems. Contacts are a medical device and should only be prescribed by an eye doctor. Avoid applying face paint or makeup around your eyes since they can cause irritation or infection. Practice safe trick or treating by carrying a flashlight and removing eye patches between houses. If you have specific questions about you or your children's Halloween costume and eye safety, ask Dr. Travis Thompson or Dr. Catherine Abott at your next appointment!
Hardin Valley Eyecare & Optical has been serving Knoxville since 2009. Dr. Travis Thompson and Dr. Catherine Abbott specialize in the diagnosis and treatment of a wide array of eye diseases, conditions, and problems and are committed to improving the quality of life in the Knoxville community through enhanced vision. Located at 10904 Spring Bluff Way, you can schedule an appointment online or give us a call at (865) 888-0892.