You're planning to go all out for Halloween this year, with not only a costume but face paint, hair gel, and accessories to boot. In fact, you may even be thinking about taking things up a notch by adding colored contacts to enhance the creepiness effect.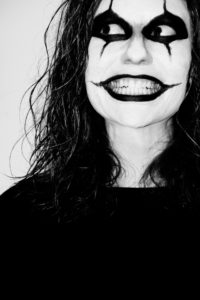 Costume or colored contact lenses come in all different shades, with red, black, and white being some of the most popular choices for Halloween zombies, vampires, villians, or lime green for cat eyes. These lenses cover your natural pupils to change the color of your eyes or to add special effects.
While costume or colored contacts may seem like part of the fun, they can actually become a true nightmare. Here's why:
There are serious risks associated with costume or colored contact lenses, and people have experienced damaging effects ranging from debilitating eye infections to blindness. 
For example, 17-year-old Julian Hamlin is now legally blind in his left eye and underwent 10 eye surgeries to treat the infections and injuries caused by the $20 colored contact lenses he bought at a gas station, no prescription required. 
It's easy to assume that because costume contacts can be bought online or over the counter, even in gas stations, for example, that they don't require the same level of care as prescription contact lenses, but this is false. Cases like Julian's are unfortunately all too common.
Contact lenses are a medical device and, according to the FDA, they require a prescription from a qualified eye doctor to be considered safe to use. Non-prescription costume or colored contacts can cut, scratch, and infect your eye if they don't fit exactly right. 
Also, because the paints and pigments used to add color make colored lenses thicker and less breathable, costume lenses also allow less oxygen through to the eye, causing infections or corneal damage. 
Lenses that don't fit properly or aren't prescribed by an eye doctor based on an office eye exam can cause a range of injuries, including:
Bacterial eye infections, resulting in temporary vision loss or permanent blindness

Scratches or corneal abrasions, resulting in permanent damage

Corneal ulcers, which may require surgery
It's not just costume contact lenses for Halloween, either. Colored contact lenses are used year-round for people who want to change the color of their eyes. But the risks of damage to the eyes and vision loss are the same regardless of the reason colored contacts are worn.
Keep in mind that in the United States it's illegal to sell any contact lenses without a prescription from an eye doctor. Wearing contacts without an exam and prescription from a doctor can blind you. And by all means, don't trust any packaging that claims the lenses are 'one size fits all or that there's no need to see an eye doctor.
If you are interested in wearing colored contacts, whether to change or enhance your eye color or for a special effect, it's extremely important that you get an eye exam and only wear contact lenses—with or without vision correction— that are fitted properly to your eye shape and prescribed by an eye doctor.
Hardin Valley Eyecare & Optical has provided the highest quality vision care products and trusted optometry services—including the right prescription contact lenses—to our patients in Knoxville and the surrounding areas since 2009. 
Our eye care professionals are dedicated to providing exceptional personal service to each and every person who walks through our door. Stop by our practice at 10904 Spring Bluff Way off Hardin Valley Road, call us at (865) 409-1253, or contact us to request an appointment.