Whether you've worn contacts for years or are considering ditching glasses, you need to know your options. There are a ton of different kinds of contacts out there and they all have their pros and cons. But one stands out among the rest — dailies contacts.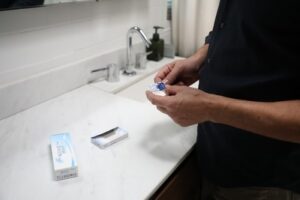 Daily contacts have the huge benefit of not requiring any daily cleaning. They can also help with seasonal allergies as well as dry eyes. Daily contacts are available for a variety of vision problems including common issues such as astigmatism. They also take the guesswork out of traveling by not requiring any cleaning solution.
1. Dailies [Contacts] Require Less Cleaning
One big downside of reusable contacts is caring for them. Unlike dailies, which are disposed of after every use, reusable contacts require daily cleaning. This helps reduce your risk of eye infections from your contacts. But not just any cleaning system will do. 
Your optometrist should help you choose one that's compatible with your lens material and wearing habits. You will also need to remember to not only rub your contacts, but rinse them again at very specific intervals for maximum bacteria removal.
Dailies contacts, on the other hand, don't require nearly as much effort. All you have to do is open a new pair every morning and throw them away every night after use. This takes the guesswork out of cleaning your contacts. It also removes any fears that you may have of getting an infection after cleaning your reusable contacts incorrectly.
2. Daily Contacts Can Help With Seasonal Allergies
Seasonal allergies are bad enough. What you may not realize is that your reusable contacts may actually be making your symptoms worse! We've seen that reusable contacts require daily cleaning, rubbing, and rinsing to remove pollen and other allergens as well as bacteria. When this is done incorrectly, or not at all, it can greatly increase your chances of an allergy flare-up.
As we recently pointed out, daily contacts can reduce your risk of a flare-up due to seasonal allergies. They're designed to be thrown away after every wear, which means they never have a chance to collect irritating pollen and other allergens. All you have to do is use a fresh pair every morning and toss them out every night.
At Hardin Valley Eyecare & Optical, we offer a variety of soft contact lenses to meet your needs. Soft lenses are some of the most comfortable contact lenses available. They're also perfect for athletes since they fit closer to the eye and are more difficult to dislodge. Contact us today to schedule an appointment or if you have any questions.   
3. Daily Disposable Contact Lenses are Perfect for Dry Eyes
One common symptom of seasonal allergies is dry eyes. While common during allergy season, dry eyes can be a problem any time of year. They occur when your body isn't producing enough tears to protect your eyes by keeping them moist and clean. As a result, your eyes may feel irritated, gritty, or sensitive.
Like with allergens, other types of residue can get stuck to your lenses, resulting in dry eyes. Daily disposable contact lenses cut this problem out of the equation by giving you a fresh pair every morning. This allows you to go about your day without worrying about irritation due to dry eye or having to clean them before you go to bed.
If you deal with dry eyes on a regular basis, discuss this with Dr. Thompson or Dr. Abbott at your next appointment. Persistent dry eye may point to an underlying issue that should be addressed.
4. You Can Get Daily Contacts for Astigmatism
Astigmatism causes your vision to become blurred, fuzzy, and distorted. It's a common condition that can still be quite frustrating for those who have to live it. We don't currently know what causes astigmatism, but family history definitely seems to play a part. Fortunately, daily contacts for astigmatism are available, whatever the cause may be.
Astigmatism is a condition where your eye has a misshapen lens or cornea, making it hard for light to focus on the retina. The retina sends information to the brain where it's translated into the images that we see. Unfortunately, astigmatism interferes with the process, making it more difficult to see clearly. To learn more about astigmatism, check out our recent blog explaining what it is and what your vision care options are to manage your astigmatism.
5. Dailies are Perfect for Traveling
If you've ever traveled with contacts then you know how much of a hassle it can be. It's not the contact themselves that's the problem. Instead, it's traveling with lens cleaner solution that can cause trouble. Whether you're traveling across the country or across the ocean, planning ahead can become a real headache.
Daily contacts are the perfect solution to this problem. Rather than figuring out how to portion your solution between your carry-on and checked luggage, you just pack however many contacts you'll need for your trip. If you're already using them then that's one less thing to worry about. If you're planning on traveling then you should consider stocking up beforehand.
Dailies [contacts] don't require any cleaning, meaning that's one less thing you have to worry about at night. They're also a great way to fight seasonal allergies and dry eyes, regardless of the time of year. Daily disposable contacts can treat a wide variety of vision problems, including astigmatism. They're perfect if you're traveling since they don't require any cleaning solution.
Are you considering daily disposable contact lenses in Hardin Valley? Contact us today to schedule your next contact fitting!
Hardin Valley Eyecare & Optical has been serving West Knoxville, Hardin Valley, Oak Ridge, and surrounding areas since 2009. Dr. Travis Thompson and Dr. Catherine Abbott specialize in the diagnosis and treatment of a wide array of eye diseases, conditions, and problems and are committed to improving the quality of life in the Knoxville community through enhanced vision. Located at 10904 Spring Bluff Way, you can schedule an appointment online or give us a call at (865) 888-0892.