You may have never considered it, but autumn brings its own special set of challenges to your eyes and vision. From the continuing spread of COVID-19 to leaf blowers blowing dirt, dust, pollen, and mold into the air, our eyes are at risk of unique problems in the fall. Make sure that you're doing everything you can to protect your eyes and your eyesight.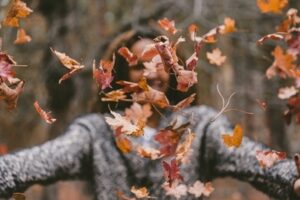 For this article, we'll look back at some of our favorite blogs that cover autumn eye safety as well as one from one of our favorite sources. This way you'll get a fuller picture of the risks to your eyes that autumn brings as well as have solid resources for how to handle them if they happen.
COVID-19 and Eye Safety
As you get used to the new normal, it may be easy to forget that COVID-19 still poses a very real threat to your health and safety. This can be especially important if you wear glasses or contacts, since they require your hands to be near your face more often. Whether it's adjusting your glasses or putting in contacts, you should know how to protect yourself.
To brush up on your coronavirus safety knowledge, revisit our blog titled, Coronavirus Safety Tips For Eye Allergies, Contact Wear & More. There we provide important tips such as:
Changes to your eye doctor visits

How to put your contacts in safely

Rubbing your eyes due to allergies

Are glasses or safety goggles enough to protect your eyes?

Keeping stocked up on your eye medications
We're constantly learning new information about the virus. Despite that fact, these tips are sure to keep your eyes safe no matter what is going on in the world.
Costume Contacts and Eye Safety
Some people like to go all out for Halloween, including wearing special contacts to create the most realistic costume possible. The most important thing to realize is that contacts are still considered medical devices even if they're for a costume.
That means that you'll need to get a prescription pair even if your vision is 20/20. Avoid vendors that promise costume contacts without a prescription. That's a big sign that they're not to be trusted. Costume contacts require the same care as regular contacts.
Sports Eye Safety
Fall means the start of sports like football, intramural leagues, and school sports. You already know to grab your mouthguard, but have you ever thought about protecting your eyes while playing sports?
We address this and more in 5 Best Practices for Sports Eye Safety. We look at:
Comprehensive eye exams

The risk of sports eye injuries

How to choose the right eye protection

What to do in case of an injury

Being a sports eye safety advocate
Sports eye safety is about more than keeping your eyes protected. It's about protecting the vision of your teammates while ensuring that you enjoy many sports seasons to come.
Eye Safety in the Workplace
Whether you're a master electrician or a spreadsheet ninja, you need to be thinking about how you protect your vision while on the job. The biggest threat facing office workers is digital eye strain, also known as computer vision syndrome. Symptoms of this condition include:
Neck pain

Back strain

Headaches

Inattentiveness

Dry eye
People who work vocational jobs face more obvious threats. These job fields report around 2,000 eye injuries per day. What's more, 90% of them could have been prevented if they had been wearing the appropriate safety gear.
Autumn Sun and Eye Safety
You're less likely to get a sunburn during autumn. However, that doesn't mean you don't need your sunglasses anymore. The sun's rays penetrate our atmosphere all year round which means that you should be taking the proper precautions every time you go outside.
If you wear glasses then this means investing in a pair of quality prescription sunglasses. To help you pick your perfect pair, we wrote Are Prescription Sunglasses Worth It? The answer is a resounding "Yes." Check it out to learn what to look for in a pair of prescription sunglasses as well as features that fit your lifestyle.
Night Driving and Vision
Autumn means that the sun sets earlier and this can increase your chances of being in an accident. While driving at night can be a challenge for most people, it can be even more dangerous if you're older and experiencing eye problems such as cataracts, an age-related condition that causes the lens of the eye to become stiff and cloudy over time.
Other Tips for Healthy Vision This Autumn
Want to go deeper into how you can protect your vision this autumn? Check out 4 Ways to Keep Your Eyes Healthy This Fall. This article discusses important safety topics you may have never considered, such as:
How raking or blowing leaves can harm your vision

The increased risk of dry eye in colder temperatures

How traditional autumn fruits and veggies can support your vision
While there are plenty of dangers to your vision year-round, Fall brings its own special set of challenges that you may not be aware of. Check out the articles on this list to learn more about the hazards you're facing as well as how you can protect yourself for many seasons to come.  
Located at 10904 Spring Bluff Way off Hardin Valley Road, Hardin Valley Eyecare & Optical has provided the highest quality vision care products and trusted optometry services to our patients in Knoxville and the surrounding areas since 2009. Our eye care professionals are dedicated to providing exceptional personal service to each and every person who walks through our door. Call us at (865) 409-1253 or contact us to schedule your appointment.