Although we are temporarily not conducting routine eye exams based on the recommendations of the CDC, AOA, and our state board in order to prevent the spread of coronavirus, we continue to care deeply about the health and well-being of our patients and all of those in our community. So, until it's clear that we can resume our full range of services safely, we want to offer our knowledge about how best to protect your eyes from coronavirus infection.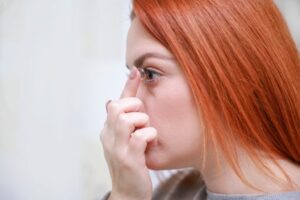 No doubt you've heard many times to avoid touching your face to reduce your risk of infection, which includes your mouth, nose, and eyes. But what does this mean if you wear contact lenses? And what if your eyes are irritated or itchy? After all, it is allergy season.
What should you be doing now, in the short term, and possibly on an ongoing basis to protect your eyes when it comes to coronavirus and eye safety? Here are 5 things we recommend:
Expect occasional changes to your eye doctor visits or exams.
As national and local recommendations or mandates shift, there may be changes to when and how you'll see your eye doctor. For example, at Hardin Valley Eyecare & Optical, we are still available for any emergent or urgent care during the temporary timeframe that we are closed for routine exams. 
To alleviate any safety issues of our patients and our staff being in the office, we will not be selling any glasses to patients with outside prescriptions at this time, but we will still be dispensing glasses and contacts. In those cases, we request that you call and pay ahead so we can bring your items to you curbside.
If you do need to come in for urgent care, or even after the coronavirus restrictions are lifted,  rest assured that our staff, like all medical professionals, follow strict hygiene and disinfection guidelines for ourselves, our equipment, and our office.
If you wear contact lenses:
It's fine to continue wearing your contact lenses, as long as you follow safe hygiene and maintenance practices to reduce your chances of infection. Be sure to wash your hands thoroughly before touching your contacts, whether they're in a case or in your eyes, and practice proper maintenance of your lenses. 
You may also want to consider wearing your glasses more often, particularly if you have a stubborn habit of touching or rubbing your eyes more frequently when you're wearing contacts.
If allergies make you want to rub your eyes:
It can be a matter of habit to rub your eyes without even thinking about it, especially during this time of year when spring pollen and allergies make many of us experience itchy or irritated eyes. Try to be aware of your inclination to itch or rub your eyes, and know that avoiding doing so seriously lowers your risk of infection. 
If you do feel an urge to itch or rub your eye, use a tissue instead of your fingers. And ff allergies or dry eyes make it more likely to rub your eyes, try using moisturizing eye drops per the instructions on the package. (See: Which Eye Drops Are Best For Your Dry Eye, Allergy, or Redness Symptoms?)
Remember that if you must touch your eyes for any reason—even to use eye drops or eye medicine—first wash your hands thoroughly with soap and water for at least 20 seconds.
Do glasses or safety goggles protect your eyes?
It seems logical that wearing eyeglasses or sunglasses would shield your eyes from infected respiratory droplets of the virus if someone coughs or sneezes near you, but this is only effective to a point. Glasses may shield part of your eyes, but they won't provide 100% security since the virus could still enter your eyes from the open tops, bottoms, and sides of your glasses. 
If you are indeed caring for a sick patient or someone who has potentially been exposed to coronavirus, you may be advised to wear proper safety goggles to provide a more secure barrier to your eyes. 
Have ample eye medications if possible.
You most likely have heard experts advising that people have an ample supply of any critical medications they need, just in case they are quarantined or if supplies become limited. If you require essential eye medications and your insurance allows you to get more than 1 month supply, you should do so if you can. 
All of us at Harden Valley Eyecare & Optical care about our patients and our community, and we're here to answer any questions you may have about our hours, what types of emergent appointments we are available for, and how we can help you in other cases. Please call us at (865) 409-1253 and leave a message. We will get back to you shortly.
At Harden Valley Eyecare & Optical, we are passionate about helping you stay proactive about your eyesight and the overall health of your eyes. Our eye care professionals are dedicated to providing exceptional personal service to each and every person who walks through our door. Stop by our practice at 10904 Spring Bluff Way off Hardin Valley Road, call us at (865) 409-1253, or contact us to schedule your appointment.