Vision insurance makes your eye care more affordable than paying for everything out of pocket. Discount vision plans are also available, but may not be the best choice for everyone. With vision insurance, you can save upwards of $200 per year on your eye care. Use your benefits for your annual exam and update your lenses.
What Is Vision Insurance?
As with medical insurance, vision insurance is designed to lower the price of your routine preventative eye care and eyewear costs. Also known as vision benefits plans, some may even include discounts for elective procedures such as LASIK. Vision benefits plans work similarly to dental insurance, ensuring that you get the care you need for your eye health.
However, there are some key differences between vision benefits plans and medical insurance. The biggest difference is that, unlike medical insurance, vision plans don't include a deductible that allows for unlimited benefits once they've been met. Instead, you pay an annual premium to help cover the cost of your annual exams as well your prescription glasses and contacts.
This makes vision insurance a great resource when paying for:
Progressive lenses

Anti-reflective lenses

Photochromic (

transition

) lenses
Whether purchasing vision insurance on your own or through your employer, it's important that you know your options and what's covered. Knowing the costs and benefits of each plan can help you find the best one for you and your family. You should also discuss your plan with our staff at Hardin Valley Eyecare & Optical to learn how to get the most out of your chosen vision insurance plan.
Discount Vision Plans
Vision benefits plans aren't your only option for receiving high-quality eye care and eyewear. Discount vision plans are another popular option for those who don't want to pay as much for the same products and services covered by regular benefits packages. 
Discount vision plans operate differently than benefits plans. Rather than pay a copay and your insurer cover the rest, these plans give you discounts on services and products from eye care providers within your network. They may not provide as much coverage as benefits plans. However, this can work in your favor if your vision care needs aren't as substantial as others.
Can I Use My Medical Insurance for Eye Problems?
Yes, you can. As Dr. Thompson explains, medical insurance can be billed for eye-related medical cases such as:
Eye infections

Glaucoma

Cataracts

Diabetic eye exams
Feel free to ask if you're not sure if your eye problem is covered by medical insurance. Talking to your insurer and our eyecare team can help you determine what's covered.
Click here
to learn more about the difference between vision benefits plans and discount vision plans!
Is Vision Insurance Worth It?
People have different health care needs, even when it comes to their vision. This means that some people may get their money's worth and more by purchasing a vision insurance plan. On the other hand, even someone who needs glasses or contacts may not require a vision benefits plan or even a discount plan. In cases like these, it's dependent on the needs of the individual.
The average cost of a vision exam without insurance can cost around $150. You should also expect to pay around $200 to $300 for new frames and lenses. All told, that's anywhere between $350 to $450 or more per year for routine eye care. Compare that to a vision plan that costs $15 per month for 12 months of coverage and provides $220 in annual savings.
Of course, these savings may not be as impressive to someone who already has good vision. In that case, you may only visit the eye doctor every few years for a check-up. Those who don't have the best vision, however, should consider getting vision insurance so that their prescription is always up to date.
Click here
to learn 5 signs that you need to update your eyewear prescription!
Using Your Vision Insurance in Knoxville, TN
Whether you're on a vision benefits plan or a discount vision plan, it's important to know when to use your benefits. They are usually based on the calendar year, meaning that you have a full 365 days to take advantage of them. Of course, holidays and other events may affect business hours, so it's important to plan accordingly so you don't miss out.
We accept a wide variety of insurance plans including: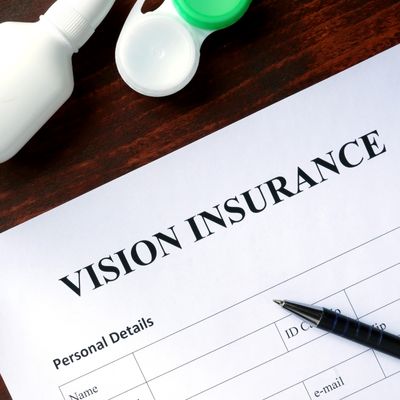 Aetna

BlueCross BlueShield

Cigna

DavisVision

EyeMed

Golden Rule

Humana

Medicare

Spectera

SuperiorVision

UnitedHealthcare

VSP
Schedule Your Comprehensive Eye Exam
The first step in taking advantage of your vision insurance is to schedule an eye exam. But not just any eye exam — a comprehensive eye exam. These are in-depth eye exams that allow Dr. Travis Thompson and Dr. Catherine Abbott to view the inner structures of your eyes. They allow our team to check for serious underlying vision problems as well as update your prescription.
The secret to what makes comprehensive exams so effective is eye dilation. This allows us to check for issues such as:
Cataracts

Glaucoma

Diabetes

Hypertension
With comprehensive eye exams, we can catch problems that reach far beyond your eyes. This alerts you to other health problems you may not be aware of so that you can get the treatment you need.
To learn more about comprehensive eye exams in Knoxville, TN,
click here
!
Update Your Eyewear
Once you've completed your eye exam then it's time for your new eyewear. At Hardin Valley Eyecare & Optical, we offer a wide range of options to suit your unique needs as well as your lifestyle. We have stylish frames from brands like Tiffany & Co., Ralph Lauren, and Burberry. We also feature sunglasses from Maui Jim and Ray-Ban as well as sports goggles for kids.
If you're not interested in glasses then ask us about our selection of contact lenses. We are big fans of daily contact lenses thanks to their ability to reduce the risk of eye infections. We also offer multifocal lenses that work just like bifocal glasses.
Are you ready to take advantage of your vision insurance before the year is out?
Contact us today
to schedule your appointment!
Whether you're using your benefits now or palling for 2023, make sure that you take full advantage of your insurance benefits. It helps to make everything from exams to new lenses much more affordable. Discount vision plans are also available depending on your needs. Make sure to use your benefits before the year runs out to save hundreds of dollars in eye care. 
​​Hardin Valley Eyecare & Optical has been serving Knoxville since 2009. Dr. Travis Thompson and Dr. Catherine Abbott specialize in the diagnosis and treatment of a wide array of eye diseases, conditions, and problems and are committed to improving the quality of life in the Knoxville community through enhanced vision. Located at 10904 Spring Bluff Way, you can schedule an appointment online or give us a call at (865) 888-0892.