Have you ever met someone and the first thing that jumps out at you is their glasses? Maybe the frames are too big for their face, or the style and color screams, "Attention on the glasses, not the face!"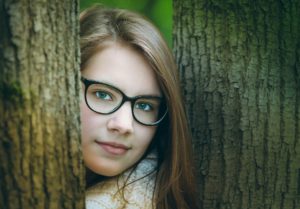 Or, on the other hand, maybe you've seen someone with a pair of glasses that really suits them, that complements or enhances their appearance, and you thought, "I wish I looked like that in my glasses."
The good news is that with some basic tips, you can avoid the first scenario in which your glasses are distracting to your appearance, and slide into the second scenario in which your glasses are attractive for your face and style. Let's take a look at how to choose the right frame shape, size, and style for you:
Frames To Suit The Shape & Size Of Your Face & Your Style
The basic shape of your face is one of the most important factors to consider when choosing frames. While everyone is different, most face shapes can fit into five main categories:

Round: Similar width and length with rounded hairline and jawline,

Oval: Greater length than width with rounded hairline and jawline.

Oblong: Greater length than width with a long, straight cheek line.

Square: Similar width and length with strong jawline and broad forehead.

Heart-shaped: Wider cheeks and forehead with narrow chin.
An easy way to figure out your face shape is to look in the mirror, pull your hair back and draw the outline of your face with an erasable marker. This should give you an idea of the length and width of your face in proportion to the shape of your jawline and forehead. (Don't worry, if you're still not sure, we can help when you come in for your next appointment.)
The Key To Shape Is Balance
The most basic principle to keep in mind when choosing eyeglasses is to look for frames that balance the shape of your face. For example, John Lennon's round glasses would only make a round face appear more, well, round. Rectangular glasses, on the other hand, balance out a round face and can make it appear more narrow. Here's a general rule of thumb:
Round face: Try angular narrow frames or rectangular frames that are wider than they are deep.

Oval: Try frames that are as wide or wider than the broadest part of the face.

Oblong: Try frames that are deeper than they are wide.

Square: Try narrow frames that are wider than they are deep, or narrow ovals.

Heart-shaped: Try frames that are wider or heavier at the bottom.
The Key To Size Is Proportion
For ideal flattery, the size of your glasses shouldn't clash with overall size of your face. The general rule of thumb is to choose frames that are in proportion to the size of your face.
If you're petite and have a smaller face, choose smaller, lighter frames. If have a larger face, choose larger frames.
The Key To Style Is You
Eyeglasses are like an accessory to your face and your style, so have some fun and try out some frames that suit your fashion sense and personality. Artsy and creative? Maybe a certain color or design will bring that out. Meeting with deal-makers for more serious business every day? A pair of solid frames that say "I've got this" can add to your confidence.
The bottom line is that your eyeglass frames should be flattering to your appearance and your personality. This often requires trying on several pairs to compare how they look and feel, and having an optician at your side who you can trust to give you honest feedback makes all the difference.
At Hardin Valley Eyecare & Optical, we enjoy helping our clients find just the right pair of frames so that they not only see well, but feel good too. If you'd like assistance in choosing the most flattering frames, schedule an appointment and we'll be happy to help! We have a wide variety of today's favorite brands and styles for you to choose from.
Hardin Valley Eyecare & Optical has provided the highest quality vision care products and trusted optometry services to our patients in Knoxville and the surrounding areas since 2009. Our eye care professionals are dedicated to providing exceptional personal service to each and every person who walks through our door. Call us at (865) 246-1500 or contact us to schedule an appointment.