A brief description of the types of lenses and variety of frames available at Hardin Valley Eyecare & Optical in Knoxville.
Selecting your lenses and frames is a very personal choice. A wide variety of options are available that can be tailored to suit not only your medical needs but also your fashion preferences.
Highlight your features, play with color, and augment vision for different functions such as reading, driving and playing sports. With all the choices available, the experience can be daunting without the right guidance. Hardin Valley Eyecare & Optical in Knoxville makes the choice easy.
Eyeglasses
Design, material and treatments are the three components that make up a pair of prescription lenses. It is important to select the right combination of these elements for your particular visual needs and to always consult your eye care professional.
The knowledgeable staff at Hardin Valley Eyecare & Optical will consider long-term wearing comfort, style, features and function when suggesting a new pair of eyeglasses. The eyeglasses become as unique as the person taking them home.
Eyeglass Lenses
Selecting the right eyeglass lens depends largely on its function. From single vision lenses to progressive lenses, we are happy to help you find what best suits your needs. For our progressive lenses, we use Essilor lenses that provide the widest and clearest range of vision with less adaptation issues.  Regardless of your situation, Dr. Travis Thompson can help determine what types of lenses will work best for you in terms of comfort, function and design.
Frame Styles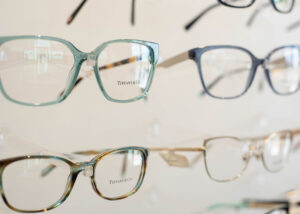 When choosing a frame, the shape and size of the frame should enhance the color of your eyes, complement your skin tone and play up the best features of your face shape.
We have a wide variety of different frames including: Georgio Armani, Tiffany, Rayban, Jimmy Choo, Ralph Lauren, Tory Burch, Burberry, Fysh, Klik, Evatik, Michael Kors, Banana Republic, Kate Spade, Silhouettes, Carrera, Smith, Coach, Marie Claire, Nicole Miller, Ann Taylor, Vari, Helium, Esquire, Moleskine, and Chesterfield.

We also have specialty children's sports goggles, swimming goggles, safety frames, and wide variety of sunglasses including the best sunglasses money can buy, Maui Jim.
Most people need more than one pair of glasses, such as one for everyday wear and another for outdoor activities. Having different style frames for different activities and moods makes wearing glasses more fun.
Sunglasses
With the wide variety of lens options available, you can customize your "sunnies" (sunglasses) to meet your visual, protection, performance and comfort needs. Sunglasses protect your eyes from harmful ultraviolet (UV) radiation, which is present even on cloudy days. Quality sunwear provides 100 percent UV protection and can significantly reduce the risk of vision problems caused by sunlight such as cataracts and retinal damage.
Glare, an issue that makes it difficult to see objects clearly by washing out colors and details, can be combated by polarized lenses. Looking at a scene with polarized lenses, you'll notice the colors are deeper, richer and bolder, and details are clearer and more distinct. Polarized lenses also help reduce squinting, which, in turn, reduces eye fatigue, tension and eyestrain.
We offer a variety of designer frames for your next pair of prescription sunglasses, including: Rayban and Maui Jim.
Anti-Reflective Lenses
Wearers of prescription glasses and sunglasses commonly encounter annoying glare and reflections caused by light bouncing off their lenses. This glare makes it more difficult to see, especially at night. Anti-reflective lenses reduce these reflections allowing more light to pass through to your eyes.
All lens surfaces naturally reflect light and this reflection can prevent between seven to 14 percent of the light needed for optimal vision. Wearing non-AR lenses is like trying to read a book in a dimly lit room. Since AR lenses allow more light to reach your eyes by reducing reflections, it's like turning up the lights in a room, making it easier to see.
We carry the best quality anti-reflective coating with Crizal. Crizal provides the clearest vision with the least amount of glare, fogging, scratches and smudges, and comes complete with a 1 year warranty.
Lenses and frames are a very necessary and personal choice. Hardin Valley Eyecare & Optical in Knoxville, Tennessee has the experience to guide you toward eyewear selections that are comfortable and that work to complement your face. For help, schedule an appointment with Dr. Travis Thompson and we'll be in touch with you shortly.
Frequently Asked Questions
What's the difference between lenses and frames from the eye doctor when I can simply pick up an inexpensive pair of reading glasses at the store?
Drugstore reading glasses are pretty ubiquitous and can be a decent solution for some people, but there are two great reasons to visit an eye doctor:
Regular eye exams help eyecare professionals diagnose eye conditions, like glaucoma and diabetic retinopathy, in their early stages before permanent vision loss has occurred, which increases your treatment options.
Drugstore reading glasses take a one-size-fits-all approach to fit, which means that for people who have astigmatism, a different prescription in each eye, or even just eyes that are closer together or farther apart than average pre-made reading glasses may cause eye strain and headaches.
A quick visit to the eye doctor will allow you to get an exam and look at great options for lenses and frames that are the right fit and the right look for you.
How do I find frames that fit me properly?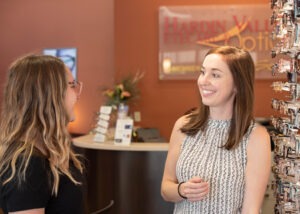 The easiest way to ensure you find a pair of glasses that fit properly is to be fitted by a professional and try the many options that are available at an optical shop with a large selection of high-quality frames. Just as with drugstore reading glasses, you may find many of the unisex options that are widely available at discount shops are only available in a single "one-size-fits-most" size. Fortunately, there are many eyewear companies now offering multiple sizes in their frames, which has greatly expanded the number of options available.
What about finding eyeglasses that look great on me?
Much like finding a proper fit, finding great looking eyeglasses is all about going to a place with many options. From there, you can get help deciding your face shape and determining which styles of frames go well with your shape as well as seeing how the various colors suit your eye color, hair color and skin tone.
I like my glasses, but how do I avoid annoying reflections?
Lenses with anti-reflective coating, or AR coating, help you see through your glasses more easily and let others see your eyes better by eliminating annoying glare, for example the white spots commonly seen in photos taken with a flash.
My lenses are very thick; is there anything I can do to reduce the thickness of my lenses?
Yes! Your thick lenses can typically be replaced with high-index lenses made of thinner and lighter materials. Aspheric lenses with indexes of 1.67 or higher can make your lenses make your eyeglasses lighter and more comfortable and reduce your lens thickness by half.
What about prescription sunglasses or those lenses that darken when you go outside?
Photochromic lenses, which darken automatically when exposed to the sun's UV rays, can be a great option for people who frequently transition between indoor and outdoor areas and don't want to bother with switching between glasses and prescription sunglasses. When it comes to driving, we offer XTRActive transition lenses that darken inside of your car or truck! To ensure you're getting the best protection, you still might want to purchase a pair of prescription sunglasses for driving.
How can I keep my eyeglasses in great shape?
When buying frames, make sure you're buying high-quality frames with spring hinges and adhere to the proper care instructions for your frames and lenses. You'll likely want to avoid trendy frames that could go out of style quickly. Furthermore, you should have a scratch-resistant coating applied to the lenses. With proper care, high-quality frames in a classic style with scratch-resistant lenses will stay in great shape for a long time.
What about glasses for my child? How do I choose glasses that my child will actually wear? How do I keep them in good shape?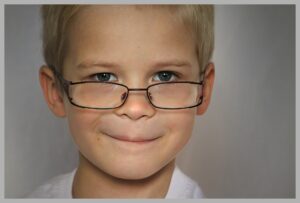 When it comes to getting a child to wear their glasses, you have to make sure they actually want to wear the glasses. Typically the most important factor in getting a child to want to wear glasses is letting them pick out their frames. This allows them to choose frames that they like and feel are attractive rather than frames that were selected for them.
If you're worried about durability and keeping an active child's glasses from breaking, consider materials that are scratch and impact resistant as well as frames with features like spring temples. Polycarbonate is a great option for children because it's very impact-resistant. Additionally, if you have a child whose prescription changes often, you might consider buying new lenses and having them put in the old frames rather than buying new frames each time.
Book an appointment today to experience the freedom that clear vision can bring!
"Nice office, great selection of frames and Dr. Thompson and all of the staff are very knowledgeable in their positions. I have a challenging prescription and have been to many eye doctors over the years. This was a return visit and am thinking they'll be my regular from here on out!"