The summer months in East Tennessee find many of us cooling off in pools, lakes and rivers, and for those of us who need prescription lenses, contacts may seem like the best choice to see clearly in the water. However, if you wear contact lenses you should know that the water in pools, lakes, and rivers can cause serious problems for your eyes.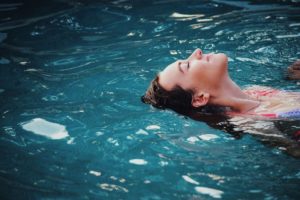 Regarding swimming pools, you may associate chlorine with eye irritation, but the real problem is that when chlorine mixes with sweat, dirt, or urine, a chemical called chloramine forms. Because contacts are absorbent and breathable, they absorb chemicals like chloramine, which can cause eye irritation and a serious eye infection.
Similarly, when it comes to lakes and rivers, contact lenses can absorb bacterial microorganisms in the water. Plus, the small pocket underneath a contact lens is a ripe environment for colonies of microorganisms to rapidly grow, which can cause a serious eye infection.
An eye infection from pool, lake, or river water can progress into a corneal ulcer, which is a serious condition that may result in vision loss. Another risk of wearing contacts when swimming is a condition called acanthamoeba keratitis, which is a parasite that can eat through your cornea and cause permanent vision loss.
Eye Safety In The Water
Here are a few tips to keep your eyes safe from harmful chemicals and bacteria when you're swimming this summer:
Remove your contacts before swimming.

Before putting your contacts back in, rinse your eyes after swimming to remove chemicals or bacteria.

If you must wear contacts, wear water-tight goggles to protect your eyes and also clean your contacts immediately after swimming.

Ask your eye doctor about prescription goggles.
We want you to enjoy swimming while also staying safe and protecting your eyes this summer, and we do carry swimming goggles that you can put a prescription in. And while you're at it, be sure to wear sunglasses with proper UV protection—not just during the summer months, but all year round. Stop by our practice at 10904 Spring Bluff Way off Hardin Valley Road and take a look at our great selection of sunglasses!
Hardin Valley Eyecare & Optical has provided the highest quality vision care products and trusted optometry services to our patients in Knoxville and the surrounding areas since 2009. Our eye care professionals are dedicated to providing exceptional personal service to each and every person who walks through our door. Call us at (865) 409-1253 or contact us to schedule an appointment.