There are few things more exciting to a child than opening presents during the holidays. The excitement of finding out that Santa brought them the toy they wanted can make it special for adults, as well. But toys can also present certain dangers that you may not think about when buying gifts for your child, especially when it comes to protecting their eyes and vision.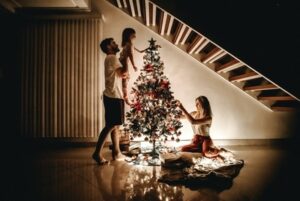 Every year, hundreds of thousands of children go to the hospital due to toy-related accidents. More concerning is the fact that almost half of them are due to head injuries. This holiday season, give toys that are age-appropriate. Show them how to play safely and make sure to keep an eye on them when they play.  
To help you protect your child's vision this holiday season, we'll look at:
Understanding threats to your child's vision

How to choose gifts that won't harm your child's vision

Protecting your child's vision with an eye exam
The holidays are a magical time for the young and young-at-heart alike. Make sure your child has the best holiday season possible and consider their eye safety when buying toys for them.
Understanding the Threats To Your Child's Vision
In 2017, a report by the U.S. Consumer Safety Product Commission revealed that an estimated 251,700 emergency room visits were due to accidents involving toys. What's more concerning is that nearly half of those trips to the emergency room were due to a head injury, and most of the children injured were under the age of 15. Some even resulted in blindness.
This is why the gift-giving season can be pivotal for your child's eye health. We all know and love the joy in a child's eyes when Santa brings them exactly what they wanted. However, children's eye safety may not always be his top priority when dropping off presents on Christmas Eve.
How To Choose Gifts That Won't Harm Your Child's Vision
Despite the unseen dangers facing your child's vision, you don't need to agonize over every gift on their list. Protecting your child's eyes and vision is easy to do as long as you follow a few important guidelines when buying their gifts as well as when they play with them.
To ensure that your child's eyes stay safe with their new toys, make sure to:
Only buy toys that are appropriate for their age
Teach them how to safely play with their new toys
Keep an eye on your child when playing with their new toy
Most if not all toys come with a suggested age range printed on the box. This suggestion is designed to help parents and other gift-givers decide if the toy is suitable for a child. Toys for younger children will have fewer if any sharp edges or detachable parts. This helps reduce the chance of the pieces being a choking hazard or damaging their eyes and vision.
Take the extra time to read the instructions with your child. This will help you know how the toy is supposed to be played with, its different parts, and the parts that may pose a danger to your child's vision. Pay especially close attention if it has any projectiles since these can pose the biggest threat to your child's eyesight.
Always make sure to keep an eye on your child when they're playing with a toy, especially if it's a new one. You'll be able to spot if they're playing with a toy incorrectly once you've read the instructions. This is true at any age, but it's particularly important if their gift is something like a BB gun. BB guns and other similar gifts are not toys and shouldn't be treated as one.
Protecting Your Child's Vision With an Eye Exam
While eye injuries from holiday toys are important to be aware of, they're not the only challenges facing your child's vision. In fact, one of the biggest threats to their vision health is not getting proper eye exams early enough. Children should get their first eye exam between the ages of 3 – 5 years old.
You probably remember getting vision screenings when you were in school. These tests are great at catching some vision problems, but they're not full-proof and kids with other problems can still pass. What's more, screenings don't allow for vision health professionals to see in the back of the eye to check for diseases.
Pediatric eye exams can vary depending on the age of your child. Exams for toddlers will check the movement of their eyes, if they're lined up correctly, and how they respond to changes in light. 
They'll also check for conditions commonly known as:
Nearsightedness 

Farsightedness

Lazy eye

Astigmatism
Vision exams do so much more than help children see better. By having your child's vision checked, you'll ensure that your child does better socially, athletically, and academically. Up to 80% of learning is visual. Getting your child an eye exam will help guarantee that they absorb as much as possible in the classroom.
This holiday season, give your child the gift of healthy vision by following safety guidelines for gifts and bringing them in for an eye exam. Contact us to schedule your child's appointment online today.
Hardin Valley Eyecare & Optical has been serving Knoxville since 2009. Located at 10904 Spring Bluff Way, you can schedule an appointment online or give us a call at (865) 888-0892.