A recent analysis of federal data revealed that 1 in 3 American school children haven't had an eye exam in at least two years. Nearsightedness in children has nearly doubled since the 1970s and the need for glasses is only growing. Parents who want to ensure that their children have a lifetime of healthy vision will need to get them started at an early age.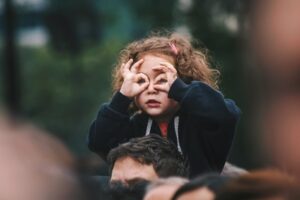 Your child's first visit to the eye doctor should be between the ages of 3 and 5 to check for common eye disease for children. You'll also want to know what to expect during the exam to help prepare your child for their visit. This can be done through talking as well as playing games similar to their upcoming exam.
To help prepare you and your child for their first visit to the eye doctor, we'll look at:
When you should take your child to the eye doctor for the first time

What to expect during kids' eye exams

How to prepare your child for their first eye exam
Our eyes are one of the most important parts of our bodies. By taking your child to the eye doctor early and on a regular basis, you will be preparing them for a lifetime of great vision!
When should I take my child to the eye doctor for the first time?
We tend to associate vision problems with adults, but children require eye exams, too! According to the Center for Disease Control (CDC), fewer than 15% of children in preschool receive eye exams and fewer than 22% get proper vision screenings. 
The CDC has provided some concrete guidelines for protecting your child's vision health. Their first eye exam should be between the ages of 3 and 5 years old. This is the optimum time to catch signs of risk factors for childhood eye conditions.
Keep in mind that, while screenings can catch some visual problems, some children with focusing problems and other issues can still pass a screening. Screenings also don't look into the back of your child's eyes to rule out an eye disease. Comprehensive exams with your optometrist can help ensure your child doesn't have any problems.
What to Expect During Kids' Eye Exams
Pediatric eye exams may differ depending on your child's age. What may be necessary for a toddler may not be necessary for an older child with verbal or reading skills. 
Toddler Eye Exams
For a toddler eye exam, your eye doctor will check for how their eyes move, that they're lined up correctly, and how their eyes respond to changes in darkness and light. Along with those, your eye doctor will also examine them for:
Amblyopia

Astigmatism

Farsightedness

Nearsightedness
Amblyopia, or lazy eye, occurs when one eye is weaker than the other. It results from the area of the brain controlling that particular eye not maturing completely and can hinder your child's ability to see details. Amblyopia is the most common source of vision issues in children.
Early detection is the most important factor and it can be corrected if diagnosed early enough. Amblyopia can be addressed with glasses but may require patching the clear eye. This helps to make the unclear eye focus and develop properly. The condition is much harder to fix if detected later down the road after your child's eye has developed.
Astigmatism is a condition where a person experiences some level of blurry vision due to having a misshapen eye. Nearsightedness, also called myopia, indicates that your child can see objects fine that are up close, but far away objects are blurry. 
Farsightedness, also known as hyperopia, is the opposite of nearsightedness. This means that a person can see things clearly that are far away, but close objects are blurry.
Protecting your child's site is one of your top priorities. At Hardin Valley Eyecare & Optical, we want to ensure that your child receives treatment immediately since childhood eye disease can hinder their future development.
Eye Exams for Older Children
To examine children ages 3-5, your eye doctor will perform a physical exam as well as vision screenings. Vision screenings for older children can include:
Pictures

Letters

Eye chart tests

The "tumbling E game"
The "tumbling E game," also known as the Random E's Visual Acuity Test, helps the doctor establish how well a child sees the form and details of objects. Your eye doctor will use a vision chart with multiple capital Es facing different directions. It can also be done using fingers.
Rather than identifying the letter, your child will say which direction the E is facing. It's ideal for kids that haven't learned to read or who are non-verbal. It's also helpful for kids who have learning disabilities such as dyslexia since they can do it by pointing which direction the E is facing. You can also practice this at home with your child prior to their appointment.
How to Prepare Your Child for Their First Eye Exam
It's perfectly normal for children to be nervous about their first visit to the eye doctor. Talk with them about what to expect beforehand and give them plenty of time to understand. Assure them that there won't be any shots, though there will probably be eye drops. 
Let your child know that the whole exam will take at least 30-45 minutes, including time for the dilating eye drops to start working. Few kids like getting eye drops, so you will need to explain how important they are in letting the doctor make sure their eyes are healthy.
It may help to practice putting in eye drops with them so they aren't scared of them. To do this, build up to real eye drops by pretending to put drops in the eyes of a favorite doll or stuffed animal. 
Next, pretend to put eye drops in your child's eye. Your child can pretend to be an optometrist by using a magnifying glass to look in their doll or stuffed animal's eyes, and you can use it to look in theirs so they get used to the process.
Doing this makes the exam seem like playing games and naming shapes. You can practice the games with your child, including the "tumbling E" game, to show them that visiting the eye doctor can actually be fun!
Wrapping Up
Children need their first eye doctor appointment much sooner than you may think. Their first visit should be between the ages of 3 and 5 to check for amblyopia and other potential problems. However, there are tests eye doctors can perform for toddlers, as well. It's recommended that you prepare your child for their first vision exam. You can do this by talking with them about what to expect, as well as by playing games that will prepare them for their exam.
Located at 10904 Spring Bluff Way off Hardin Valley Road, Hardin Valley Eyecare & Optical has provided the highest quality vision care products and trusted optometry services to our patients in Knoxville and the surrounding areas since 2009. Our eye care professionals are dedicated to providing exceptional personal service to each and every person who walks through our door. Call us at (865) 409-1253 or contact us to schedule your appointment.