Wouldn't it be nice if there was a way our eyes could give us a loud-and-clear message that our glasses or contact lens prescription is no longer cutting it? As it is, changes to our eyesight can be so subtle that it's often not until we have an annual eye exam that we realize our prescription lenses aren't keeping pace with the assistance our vision needs. 
At that point, hindsight makes it easier to see that we had indeed been squinting more while reading, or maybe that we had noticed how highway signs in the distance were looking more blurry. 
"Do I need new glasses?" is a common question for everyone who has a prescription for vision correction lenses. The answer isn't always a clear "yes" or "no," because the measurement of how well you see isn't just based on seeing 20/20 on an eye chart.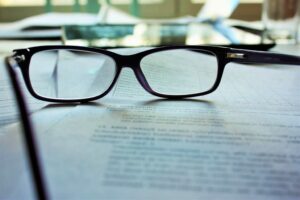 It may be that your vision could be corrected to 20/20 with a new pair of glasses, but in reality, 20/25 or 20/30 vision is still quite good. What also must be taken into consideration is how your vision is serving you—or not—as you go about your daily activities. 
If your eyeglasses or contact lens prescription feels comfortable and you're not having any problems seeing both close-up and distant objects, then an updated prescription may not be necessary.
However, there are 3 clear scenarios when an eye doctor will definitely recommend an updated prescription for new glasses or contact lenses:
You're having more difficulty doing everyday activities, such as reading, watching TV, viewing digital screens, working, or driving.

Vision loss is putting you at risk of bumping into objects, tripping, or falling.

Your eyesight is putting you in danger of being able to safely and legally drive.
Because your vision typically changes subtly over time, it's understandable that you might not think you need new glasses if you're not experiencing any of those 3 eyesight issues. Still, if you've had the same pair of glasses for a few years, you may not realize that you're not seeing as clearly with your current glasses as you did before.
To know if that's the case, there are additional signs that may indicate it would be a smart move to get an updated prescription, such as:
Squinting to see clearly, either close-up or in the distance

Eye fatigue or strain

Headaches

Blurry vision

Double or wavy vision

Increased difficulty adjusting to light changes

More than a year has passed since your last eye exam
Prescriptions change over time. You're actually causing unnecessary eye strain that could easily be prevented if you're wearing an outdated prescription, so it's important to visit your optometrist for an eye exam every year to detect any vision changes that may require a new prescription. 
Plus, annual eye exams can detect many diseases such as high blood pressure, cataracts, diabetes, glaucoma, and macular degeneration. Maintaining a schedule of annual comprehensive eye exams is one of the best steps you can take for your vision, as well as your overall health and well-being.
Since 2009, Hardin Valley Eyecare & Optical has provided the highest quality vision care products and trusted optometry services to our patients in Knoxville and the surrounding areas. Our eye care professionals are dedicated to providing exceptional personal service to each and every person who walks through our door. Stop by our practice at 10904 Spring Bluff Way off Hardin Valley Road, call us at (865) 409-1253, or contact us to schedule your appointment.