When it comes to Thanksgiving, people are usually more concerned about their pants size than anything else. However, most people probably aren't aware of the benefits that traditional Thanksgiving foods have on your vision. This is thanks to special antioxidants known as carotenoids, as well as other vitamins and minerals that support and protect your eyes.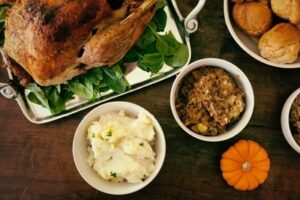 To discover the connection between Thanksgiving and your eyes, we'll look at:
Why Thanksgiving is good for vision health

The best Thanksgiving foods for eye health
Smart choices can lead to great outcomes this Thanksgiving. Keep reading to learn what foods to load your plate with for eye health. Some of them may even surprise you. 
Why Thanksgiving is Good for Vision Health
Thanksgiving may not be the best holiday for your waistline, but it can actually benefit your vision if you stack your plate correctly. Sure, you know to eat plenty of green things, but Thanksgiving provides an opportunity to pack your plate with all sorts of foods that can boost your eye health.
Think of your plate as a rainbow. Fruits and vegetables in a variety of reds, yellows, oranges, and greens let you know that they're packed with essential vitamins and other nutrients that benefit your eyes as well as the rest of your body. Basically, try to make your plate match the colors of autumn leaves.
That's because these fruits and veggies are packed with antioxidants known as carotenoids. If that word sounds familiar, it's because it's where we get the word "carrot," which is a perfect example of a vegetable that benefits your vision health. They help protect aging eyes from the effects of cellular damage and are more beneficial when combined with other nutritious foods.
Aside from carotenoids, choose foods that are packed with:
Zinc

Omega-3 fatty acids

Vitamin C

Vitamin E

Lutein

Zeaxanthin
Zinc is a trace mineral that helps aid vitamin A in protecting your eyes, and omega-3s have been found to aid in age-related vision loss. Vitamin C lowers the risk of cataracts and slows down age-related macular degeneration, while vitamin E helps protect healthy tissue from breaking down. Lutein and Zeaxanthin also help protect your eyes from chronic eye diseases such as cataracts and age-related macular degeneration.
You don't have to research everything on the table before filling your plate. Just try to have as many colors as possible and you'll be on the right track toward better eye health this Thanksgiving.
The Best Thanksgiving Foods for Eye Health
Now that we've established what to look for in eye-healthy food, let's discuss what you should actually load your plate with. This may require some people to be a bit more adventurous than usual with their food. For others, it could be a great opportunity to learn how to make a new dish and let others be thankful that you did.
Sweet Potatoes
Sweet potatoes are a Thanksgiving classic and no table should be without them, even if no one wants them. However, you now know that they're one of the best foods for your eye health, so you should definitely get a couple of spoonfuls.
We usually associate vitamin C with fruit, but you may not be aware that sweet potatoes have a lot of it as well. They're also a great source of vitamin E. Together, these vitamins help prevent eye diseases such as age-related macular degeneration from progressing any further.
Cauliflower
Mashed potatoes and gravy may be Thanksgiving staples, but they're not helpful when it comes to eye health and definitely not when it comes to your pants fitting more comfortably. With that in mind, this may be the perfect opportunity to try mashed cauliflower.
Not only does mashed cauliflower have fewer carbs than traditional mashed potatoes, but it's also loaded with omega-3 fatty acids. This is the same substance that comprises 30% of our brains. These complex fatty acids are difficult to get enough of purely from food, but cauliflower is a great way to sneak some into your diet if you don't have any supplements handy.
Green Vegetables
Whether it's raw, roasted, or in a casserole dish, you can never go wrong with green vegetables. When filling your plate, make sure to get a few servings of
Asparagus

Brussel sprouts

Green bean casserole

Spinach
These types of veggies are full of lutein and zeaxanthin, two antioxidants that help to protect your retina from harmful UV rays. 
Cranberry Sauce
You don't have to worry about whether your cranberry sauce is canned or homemade; either way, it's full of vitamin C and bioflavonoids. Both protect you from free radicals, which are the waste leftover from chemical reactions in the body. They have been linked to eye diseases as well as cancer, Parkinson's disease, and Alzheimer's.
Pumpkin Pie
One great thing about Thanksgiving is that even dessert can be good for your eyes. One perfect example is pumpkin pie, which is chock full of vitamin A. This vitamin helps maintain your eye's macula, cornea, lens, and helps with night vision. One cup of mashed pumpkin has more than your daily recommended intake of vitamin A, so don't be scared to grab a bigger slice.
Turkey
You can't have Thanksgiving dinner without turkey, and now you can enjoy it knowing that the centerpiece of your table is also good for your vision. Turkey is full of niacin and zinc, which help protect your eyes from the formation of cataracts. Cataracts are the primary cause of vision loss in the U.S. so don't be afraid to get a few extra slices.
Many people worry about Thanksgiving since it can lead to over-indulging. However, you can enjoy your holiday dinner knowing that you're making choices that are good for your vision as well as your overall health. Aim for a cornucopia of colors on your plate as well as a few good slices of turkey to help pull the whole meal together.
Located at 10904 Spring Bluff Way off Hardin Valley Road, Hardin Valley Eyecare & Optical has provided the highest quality vision care products and trusted optometry services to our patients in Knoxville and the surrounding areas since 2009. Our eye care professionals are dedicated to providing exceptional personal service to each and every person who walks through our door. Call us at (865) 409-1253 or contact us to schedule your appointment.