Optometrists and ophthalmologists both specialize in eye and vision health. However, they don't support your vision in the exact same way. To support and protect your vision, you need to know the difference between optometrists and ophthalmologists in order to get the best care possible.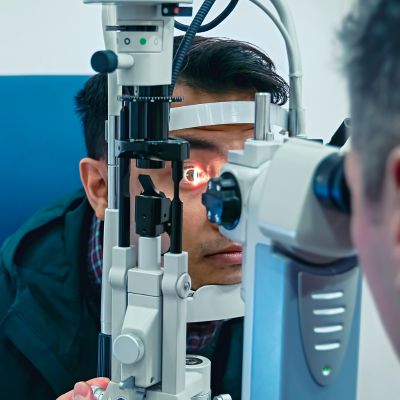 Optometrists are experts in the daily health and functioning of your eyes. They are here to help update your eyewear prescription, treat minor injuries, and provide eye exams whenever needed. Ophthalmologists can perform many of the same tasks. However, their true specialties are treating complex cases and performing eye surgery.
When To Choose a Knoxville Optometrist
As doctors of optometry, optometrists are your first line of defense when it comes to your vision. Along with a four-year bachelor's degree, they go on to complete an additional four years of training in optometry. 
Some may complete more training in a specialized field including:
Pediatric optometry

Geriatric optometry

Eye diseases

Rehabilitation for brain injuries

Rehabilitation for vision problems
However, the majority of optometrists choose to go into practice as soon as possible. Think of your Knoxville optometrist as a key part of your primary care team. They are experts in staying on top of your eye health as well as understanding how it affects your overall health. 
Your optometrist should be your first call if you:
Need corrective glasses or contact lenses

Have experienced a minor eye injury

Need a comprehensive eye exam

Are experiencing eye problems
Regular visits to your optometrist allow them to monitor your vision and detect any major changes that occur. With comprehensive eye exams, they can view the inner structures of your eyes to detect vision problems before they become noticeable. They can also catch signs of other health issues such as hypertension and diabetes.
Click here
to learn more about comprehensive eye exams in Knoxville!
Find Your New Optometrist in Knoxville, TN
Hardin Valley Eyecare & Optical serves the vision care needs of Hardin Valley, Oak Ridge, and the greater Knoxville area. Opened in 2009 and run by Dr. Travis Thompson and Dr. Catherine Abbott, we are leaders and the preferred provider of premium vision products in Knoxville. Our team uses state-of-the-art technology to diagnose as well as educate our patients about their vision.
This ensures you get the best treatment possible for your eyes:
Diseases

Conditions

Problems
Look no further than Hardin Valley Eyecare & Optical if you're searching for an eye doctor in Knoxville, TN. Dr. Travis Thompson and Dr. Catherine Abbott share a passion for eye health and providing the best experience possible for every person who enters our office.
Travis Thompson, O.D.
Born and raised in Knoxville, TN, Dr. Travis Thompson grew up in the Hardin Valley area. He graduated from Karns High School in 2004 and then went on to earn a Bachelor of Science with a concentration in biochemistry from the University of Tennessee in 2008. Dr. Thompson earned his O.D. in 2013 from the Southern College of Optometry in Memphis, TN.
As a Knoxville optometrist, Dr. Thompson loves providing the highest quality vision care to all of his patients. However, he has a special interest in:
Managing ocular diseases

Fitting eyeglasses and contact lenses

Pediatric optometry
Dr. Thompson is also a member of a number of professional organizations. This includes the Tennessee Association of Optometric Physicians (TOAP), the East Tennessee Association of Optometric Physicians (ETSOP), and the American Optometric Association (AOA). 
Catherine Abbott, O.D.
Hailing from Salem, VA, Dr. Catherine Abbott attended the University of Virginia where she earned a Bachelor of Arts in Biology. Following undergrad, she completed her O.D. in 2013 at the Southern College of Optometry in Memphis, TN. Dr. Abbott has also completed a one-year residency with the Salem VA Medical Center to round out her education and experience.
Dr. Abbott is a well-rounded eye doctor thanks to her extensive experience handling complicated cases including eye diseases. On top of being an active member of professional groups such as the TOAP, ESTOP, and AOA, she also partners with her husband, Dr. Travis Thompson, to run Hardin Valley Eyecare & Optical. 
To learn more about Dr. Thompson & Dr. Abbott,
click here
!
When To Choose an Ophthalmologist in Knoxville
Ophthalmologists are medical doctors that have completed four years of medical school as well as a four-year residency. While they can perform the same tasks as optometrists, their real strength is performing eye surgery and providing care for complex medical cases. Think of them as a specialist you would be referred out to and your optometrist as your primary care provider. 
Ophthalmologists specialize in:
Cataract surgery

LASIK surgery

Glaucoma surgery
They also provide injections for patients whose vision is affected by diabetes or wet macular degeneration. Your ophthalmologist will work closely with your optometrist and the rest of your healthcare team for a broader understanding of your vision as well as overall health. It also ensures that you receive the best and most complete treatment possible for your condition.
Do you need a comprehensive eye exam or to update your eyewear prescription?
Contact us today
to schedule an appointment with an optometrist in Knoxville, TN!
At Hardin Valley Eyecare & Optical, our goal is to provide the best experience possible for our patients. This is why we partner with local ophthalmologists. If your vision care needs become complex, or you're in need of eye surgery, we continue to partner with you in your help through a referral to a trusted surgeon.
Optometrists are the first line of defense for protecting and supporting your eye health. They can perform eye exams, update your prescription, and even treat minor injuries and diseases. Ophthalmologists can do much of the same, but their primary focus is on performing eye surgery as well as diagnosing and treating complex eye problems. 
Hardin Valley Eyecare & Optical has been serving Knoxville since 2009. Dr. Travis Thompson and Dr. Catherine Abbott specialize in the diagnosis and treatment of a wide array of eye diseases, conditions, and problems and are committed to improving the quality of life in the Knoxville community through enhanced vision care. Located at 10904 Spring Bluff Way, you can schedule an appointment online or give us a call at (865) 888-0892.