Hardin Valley Eyecare & Optical has been growing, and we're thrilled to announce the addition of Dr. Catherine Abbott, OD to our team. That means we're now able to add more new patients and additional appointments! We've even extended our hours of operation to include Friday appointments. Dr. Abbott is excited to establish herself as an asset to our Hardin Valley and Knoxville community for vision and eye health.
Background & Training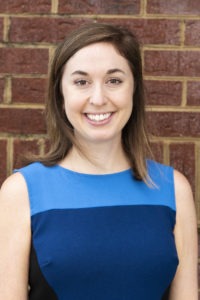 Dr. Abbott is originally from Salem, VA. She graduated from the University of Virginia with a bachelor's in Biology before attending Southern College of Optometry, where she met Dr. Thompson. After graduating from optometry school in 2013, she did a one-year residency at the Salem VA Medical Center. Until she joined the Hardin Valley Eyecare & Optical team, she has practiced private optometry since 2014 for another family practice in East Tennessee. 
With her training and experience, Dr. Abbott is excited to now run a family practice alongside her husband, Dr. Travis Thompson. In her previous position working for another family practice run by a husband/wife duo, she saw a preview of what life would be like working side-by-side with Dr. Thompson. She looks forward to how they can serve the Hardin Valley community together through overall vision health and eye exams. 
Vision & Eye Health
Dr. Abbott was originally drawn to optometry because of the level of patient care that's involved. She enjoys getting to know her patients over a period of years and spending time with them each time they come in for an appointment. She especially loves working in private practice because she gets to help patients of all ages. In Dr. Abbott's experience, the eyes are a window to the bigger picture of a patient's health.
Throughout her experience, Dr. Abbott has dealt with a lot of complicated cases, including various eye diseases. These experiences have made her a more well-rounded and compassionate doctor when it comes to your vision and health. Both Dr. Abbott and Dr. Thompson both have a lot of experience providing comprehensive eye exams, not only to ensure their patients' vision health, but also to check their overall health and wellbeing. They approach every patient and case with compassion and enjoy serving the Hardin Valley community.
How Dr. Abbott Spends Her Free Time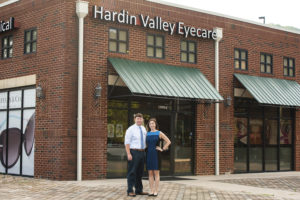 In her free time, Dr. Abbott enjoys spending time with friends and family (including her dog, Barley). She loves outdoor activities like hiking, making East Tennessee the perfect place to call home. She also enjoys reading new books through her virtual book club. This became an especially important activity this year due to COVID-19, as she could connect with friends over video calls and discuss books they were reading together that she may have never picked up on her own. They recently finished Bright Side by Kim Holden and The Henna Artist by Alka Joshi. 
Book an Eye Exam
If you would like to make an appointment with Dr. Abbott or Dr. Thompson, you can call us at 865-888-0892 or contact us to schedule your appointment. We're located in Hardin Valley across from Pellissippi State Community College and down the street from Hardin Valley High School and Oak Ridge. 
We provide convenient eye exam appointments Monday, Tuesday, Wednesday, Thursday, Friday, and Saturday every week. Due to COVID-19 our shop is open for appointments only. We ask that patients come to appointments alone, unless accompanying a minor. Please wear a face covering when you come to your appointment. Contacts and glasses can be arranged to be picked up curbside.