You want the best for your kids. From their oral to overall health, you want to support them so that they live long, healthy lives and reach their potential. By supporting their visual health, you are setting them up for success in school and long into adulthood. To help you get started, we've prepared this blog on children's vision care in Knoxville, Tennessee.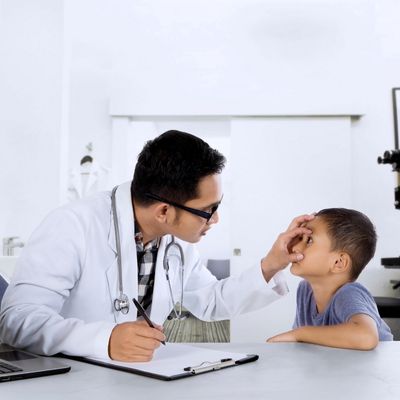 Exams are the foundation for the basics of children's vision care.  They allow us to catch eye problems in children early and provide treatment. Common children's eye problems include amblyopia, strabismus, and refractive errors. Children's vision can change rapidly as they get older, and they can even grow out of eye problems in some cases.
Children's Eye Care: The Basics
Scheduling an eye exam is as important for your child's health care as their routine doctor and dentist visits. A school vision screening can help catch certain problems with their eyes and vision. However, scheduling an appointment with an eye doctor in Knoxville, TN, is the best way for them to receive in-depth eye care that checks for a broad range of issues.
Common eye problems in children include:
Amblyopia

Strabismus

Refractive errors
Also known as lazy eye, amblyopia can seem minor at first. The truth is that it indicates poor vision and, if left untreated, can result in vision impairment or even vision loss later on. Strabismus or crossed eyes is a misalignment that causes the eyes to not point in the same direction. It is treated by patching the healthy eye, forcing the affected eye to grow stronger.
Refractive errors can be broken down into three different types:
Myopia (nearsightedness)

Hyperopia (farsightedness)

Astigmatism
Myopia makes it difficult for children to focus on objects that are far away. Hyperopia, on the other hand, causes children to have problems focusing on objects that are nearby. An astigmatism is when the surface of the eye has an abnormal curve making it more difficult for your child to see. All three of these conditions can be treated with corrective lenses at Hardin Valley Eyecare & Optical.
Click here
to learn the signs that your child may be struggling with their vision!
Children's Vision Care in Knoxville, Tennessee
At Hardin Valley Eyecare & Optical, we have been providing the highest quality eye care to children of all ages since 2009. We serve the Hardin Valley and the surrounding Knoxville community to treat a broad range of eye problems, eye diseases, and eye injuries. Dr. Travis Thompson, Dr. Catherine Abbott, and the rest of our team work together to protect you and your child's vision.
Here at our office, you will find the latest in state-of-the-art diagnostic tools. We also offer the latest eyeglass frames from the hottest brands including Jimmy Choo, Michael Kors, and Kate Spade. You will also find the most stylish sunglass frames from Ray-Ban and Maui Jim. Ask us about our wide range of contacts, including daily contact lenses, if you want to go frames-free. 
For more on why and when children should have eye exams,
click here
!
How Quickly Can a Child's Vision Change?
Much like their height, the vision of school-age children can change dramatically as they get older. For example, both their depth perception and ability to focus their eyes get stronger in elementary school. As their ability to focus their vision strengthens, it becomes more important to watch out for signs of trouble early on so they don't develop long-lasting eye problems later.
Some of the greatest risks to a child's eyes occur between the ages of two and five. This is when they face a significant risk of eye conditions such as lazy eye or crossed eyes. Regular eye exams are the best way to catch these issues. It also helps to watch out for signs of children's eye problems, such as squinting or tilting their head to see better. 
Can a Child's Vision Improve with Age?
Once diagnosed, some parents wonder if their child will always need to wear glasses or contact lenses in order to see clearly. It is possible for children to outgrow some eye health problems as they get older. Unfortunately, this isn't always the case. On the bright side, children can lead very productive lives despite refractive errors or other eye health problems that they may have. 
Eye problems that children may grow out of include:
Farsightedness

Astigmatism

Esotropia
Children can outgrow their farsightedness thanks to their eyes growing longer as they get older. This causes their eyes to no longer be too short and correct their problems seeing nearby objects. Getting older can also correct astigmatism in certain cases. However, this usually only happens if the child has a slight astigmatism and isn't farsighted or nearsighted.
Esotropia is a common children's eye problem that causes one or both eyes to turn inward. It looks similar to crossed eyes and is caused by their attempt to focus their vision. Some children outgrow the condition but it can take several years for this to happen. This usually occurs between the ages of nine and 12, although some kids will still require corrective lenses.
Does your child need an eye exam?
Contact us today
to schedule their appointment!
Children's vision care in Knoxville, Tennessee, starts with an eye exam. These tests help us spot vision problems in kids early and get them the treatment they need. Issues such as amblyopia, strabismus, and refractive errors are common and easily treated. A child's vision can change quickly as they grow, with some outgrowing their eye problems as they get older.
​​Hardin Valley Eyecare & Optical has been serving Knoxville since 2009. Dr. Travis Thompson and Dr. Catherine Abbott specialize in the diagnosis and treatment of a wide array of eye diseases, conditions, and problems and are committed to improving the quality of life in the Knoxville community through enhanced vision. Located at 10904 Spring Bluff Way, you can schedule an appointment online or give us a call at (865) 888-0892.