As concern grows over blue light and the effect it may have on your vision, you may be wondering if you can get eye damage from cell phone use. Your vision is an essential part of your life, so it's good and natural that you want to protect it. Fortunately, many of the so-called dangers are overblown.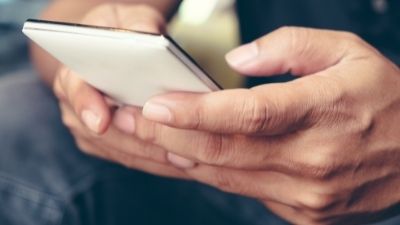 Cell phones and other digital screens have little effect on your vision. The sun is a much bigger threat to your eye health, which is why you need a quality pair of sunglasses to protect your eyes year-round. While computer vision syndrome can impact your eye health, it can be treated with simple changes to your daily routine. Another option is to invest in a pair of computer glasses to help alleviate eye fatigue. 
Eye Damage from Cell Phone Use
Smartphones and other mobile devices have become a fundamental part of our daily lives. Combine them with computer screens and you can find yourself looking at screens for long periods of time — possibly even most of the day and on into the night. This has led to a growing concern that cell phones can lead to vision problems and even vision loss.
Fortunately, there is little evidence at this point that your eyes can become damaged from exposure to blue light from your phone. According to Harvard Medical School, your digital devices simply don't have enough power to negatively impact your eye health. 
In fact, the light in many retail stores is twice as powerful as the phone in your pocket. The LED light in your phone and other devices also tends to be much smaller than in an LED flashlight. This makes them much safer to look into than a light bulb or military-grade LED flashlight. Then there's our very own sun, which puts out 10 times the ambient illumination of LED lights.
While dangers do exist, the best way to protect your vision is to avoid staring directly into bright lights, including the sun. You should also invest in a quality pair of sunglasses to protect your eyes from the sun's UV rays.
Choose a pair that:
Has 99 – 100% UV blocking, or is rated UV400+
Fits comfortably close to your face
Has lenses without any imperfections
Choosing to wear sunglasses can go a long way in protecting your vision and feeling comfortable. Click here to learn more about how to choose your next pair of prescription sunglasses.
Fighting Computer Vision Syndrome
At this point in time, there is little to no conclusive evidence that blue light harms your vision or leads to problems such as age-related macular degeneration. However, looking at digital screens for long periods of time does have an effect on the human eye. This is computer vision syndrome, also known as digital eye strain.
Computer Vision Syndrome Symptoms
According to Optometrists.org, over 50% of adults and children are affected by computer vision syndrome. Symptoms include:
Dry eyes
Headaches
Blurred vision
Eyes that feel sore and tired
Neck and shoulder pain
These symptoms can cause you to feel physically tired at the end of the day even if you haven't performed a lot of physical activity.
Most of us spend well over two hours per day looking at digital screens, and there's a good chance you're using two or more devices at the same time. It's no wonder many people are reporting symptoms of computer vision syndrome!
Computer Vision Syndrome Treatment
Thankfully, there are a few practical steps you can take to treat and prevent this common problem. To make things easier on your eyes, try:
Using appropriate lighting
Reducing glare from screens
Adjusting your display settings
Blink more
Follow the 20-20-20 rule
To get the appropriate lighting, avoid bright sunlight and fluorescent lights when working. Close the curtains if working from home and use soft lighting indoors. To reduce glare, position your computer in a place where you're not directly in line with windows. You can also use anti-glare screens to cut down on light reflecting into your eyes.
Adjust your display settings to cut down on eye strain. Adjust the brightness of your monitor to match the brightness of your workspace. You should also opt for black text on a white background, which is easier on your eyes. You can also reduce blue light by adjusting the color temperature of your screens to "warmer" colors such as orange and red.
Blinking keeps your eyes moistened while also removing debris. Unfortunately, looking at digital screens can cause us to forget to blink, resulting in dry and irritated eyes. Remember to blink regularly while looking at your phone or working on your computer. You can also use eye drops to keep your eyes moist.
Start including the 20-20-20 rule into your work routine. All you have to do is look at something:
20 feet away
For 20 seconds
Every 20 minutes
This helps you to reduce screen time regularly, which will lead to less eye fatigue.
Blue Light Glasses
Another popular option may be blue light glasses, which claim to help block blue light. While more research needs to be done to confirm their effectiveness, many people have experienced reduced eye strain while wearing them. 
Also known as computer glasses, blue light glasses are very affordable with some going for as low as $50. They come in prescription and non-prescription varieties, making them easy to find. Results can vary, but some people have reported reduced eye strain symptoms, including:
Headaches
Tired eyes
Difficulty sleeping
No negative side effects have been found relating to wearing blue light glasses. That makes them a worthwhile splurge for many people when combined with their low cost and possible benefits. Click here to read our blog about blue light glasses.
Blue light from smartphones and other digital screens doesn't damage your vision. Instead, focus on protecting your eyes from ultraviolet light from the sun with prescription sunglasses. You can also prevent digital eye strain by making small but effective changes to your daily habits. For added protection, try using computer glasses that may help filter blue light.
Want to learn what you can do to protect your vision from harmful light? Contact us today to schedule your appointment!
Hardin Valley Eyecare & Optical has been serving Knoxville since 2009. Dr. Travis Thompson and Dr. Catherine Abbott specialize in the diagnosis and treatment of a wide array of eye diseases, conditions, and problems and are committed to improving the quality of life in the Knoxville community through enhanced vision. Located at 10904 Spring Bluff Way, you can schedule an appointment online or give us a call at (865) 888-0892.