It always helps to know what to ask during your next comprehensive eye exam in Knoxville. Whether it's your first exam or it's been a while since your last one, having the right questions and information ready can help make your appointment go smoothly and stress-free.
The 11 questions to ask during your comprehensive eye exam are:
Have I provided you with my full medical history?
Do you need to know my family medical history?
What tests will you be performing?
Are you going to dilate my eyes?
What's causing my symptoms?
What do my results mean?
Will I need to see an ophthalmologist?
How can I protect my eye health?
How often should I get comprehensive eye exams?
How often should my kids get eye exams?
Are there any new treatments that I should consider?
1. Have I Provided You With My Full Medical History?
It's important that we have your full medical history when performing a comprehensive eye exam. Getting that information from other sources can be time-consuming, so being able to provide it yourself is always a plus. Even the most general health issues can lead to complications later on, and having this information on hand lets us know what to look out for.
2. Do You Need to Know My Family Medical History?
As with your personal medical history, family medical history can provide us with important insights about your medical health. For instance, having a family history of cataracts can put you at a higher risk for developing them than someone who doesn't. With this information, we can keep an eye out for genetic issues and address them before they develop into major problems.
3. What Tests Will You Be Performing?
If it's your first comprehensive eye exam, or you don't get them regularly, then you may not know what to expect. This can make you feel nervous, which isn't helpful when undergoing any type of medical exam. That's why it's helpful to ask us what to expect throughout your appointment. It puts your mind at ease and allows us to serve you better.
4. Are You Going to Dilate My Eyes?
Our team will let you know beforehand if your eyes will be dilated during your exam and make sure you understand what to expect, but it's still a good idea to ask again. As with asking which tests will be performed, knowing what dilation is and what to expect is essential for a stress-free comprehensive eye exam. While it doesn't hurt, it will prevent you from being caught off guard.
It's a good idea to have a friend or family member drive you to and from your dilated eye exam. Your eyes will be more sensitive to light, which can make it difficult to drive and perform daily tasks.
To learn more about what to know before comprehensive eye exams in Knoxville,
click here
!
5. What's Causing My Symptoms?
There are a wide variety of symptoms that can affect your vision. Whether it's dryness, strained eyes, or allergies, diagnosing the problem is essential for getting relief. Have a list of symptoms handy when you come in for your comprehensive eye exam in Knoxville. It will ensure that you don't forget anything, help us determine the source of the problem, and provide treatment.
6. What Do My Results Mean?
Comprehensive eye exams do much more than see if you need to upgrade your prescription. They give us a deep view of the structures of your eyes, allowing us to identify any developing problems. You will want to know what we find as well as what it means for the future of your eye health. You can rest assured that we will discuss treatment plans as well as what to expect. 
7. Will I Need to See an Ophthalmologist?
Optometrists and ophthalmologists are both eye care professionals that provide invaluable services. However, they serve different roles in the treatment of vision issues. Optometrists can examine, diagnose, and treat a wide variety of eye problems. Ophthalmologists, on the other hand, are trained to perform medical and surgical treatments for more severe issues. If the need arises, Dr. Thompson and Dr. Abbott can always refer you to a skilled ophthalmologist. 
8. How Can I Protect My Eye Health?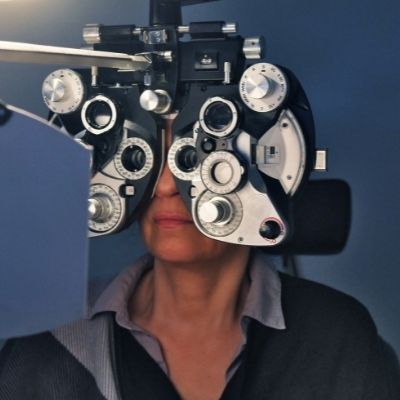 Dr. Travis Thompson and Dr. Catherine Abbott have a wealth of knowledge for the protection of your vision. When it comes to protecting your eye health, this can be as basic as eating healthy and getting plenty of exercise to specific tips like getting more omega-3 fatty acids. Of course, the best thing you can do is come to visit us regularly so we can stay on top of your vision. 
9. How Often Should I Get Comprehensive Eye Exams?
Your need for regular comprehensive eye exams changes as you get older. Those between the age of 18 and 64 should get a thorough examination at least every two years. Starting at age 65, these biannual eye exams should become yearly due to higher risks due to age. High-risk patients such as diabetics should get an exam every year once they've been diagnosed.
10. How Often Should My Kids Get Eye Exams?
We all want the best for our children, and ensuring good eye health is a major part of that. Children should get their first eye exam between 6 and 12 months. They should get another between the ages of 3 and 5. From there, they need an eye exam every year in order to identify and treat any developing problems such as a refractive error.
Click here
to learn more about children's eye exams!
11. Are There Any New Treatments That I Should Consider?
Technology is always advancing, which means that new medical treatments are always becoming available. With these advances, new treatments may be available that work better than your current ones. This is true whether you have glaucoma or simply need to update your eyewear prescription. An upgrade in glasses or contacts can do wonders for your vision.  
At Hardin Valley Eyecare & Optical, we use the latest technology to examine your eyes and treat vision problems. This includes the Optos Daytona to give us a clear image of your retina nearly as powerful as dilation. We also use an iCare Tonometer which lets us check your eyes for glaucoma without using puffs of air. Our Avanti OCT allows us to detect and manage eye diseases such as macular degeneration and glaucoma.
Do you need a comprehensive eye exam in Knoxville?
Contact us today
to schedule your appointment!
Always provide your personal and medical history so we know what to look out for during an exam. Ask what tests will be performed along with dilation so you know what to expect. Discuss what's causing your symptoms as well as the meaning of your results. Ask if an ophthalmologist will be required for any treatments. 
It's also a good idea to ask what lifestyle changes you can make to protect your vision. Ask how often you should get comprehensive eye exams as well as when your children should have their eyes examined. Finally, discuss any newly available treatments that may work better than your current ones.
Hardin Valley Eyecare & Optical has been serving Knoxville since 2009. Dr. Travis Thompson and Dr. Catherine Abbott specialize in the diagnosis and treatment of a wide array of eye diseases, conditions, and problems and are committed to improving the quality of life in the Knoxville community through enhanced vision. Located at 10904 Spring Bluff Way, you can schedule an appointment online or give us a call at (865) 888-0892.