Online eye exams have grown in popularity over the past few years. They allow you to have your vision checked on your own time in the comfort of your own home. Unfortunately, they don't provide the same benefits as an in-person visit to the eye doctor. These exams go beyond checking your vision, providing an in-depth picture of your vision and overall health.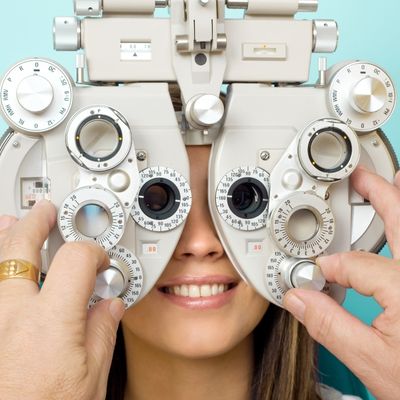 Online vision tests require a computer or smartphone to work. While they may be better for your schedule, they aren't intended for everyone nor do they replace in-person eye doctor visits. For the best care possible, you need in-person comprehensive eye exams. Hardin Valley Eyecare & Optical has been providing them in Knoxville since 2009. We offer convenient appointment times including Fridays and Saturdays. 
How Does an Online Vision Test Work?
Your experience can vary depending on the online vision test you receive. To start, you will need access to a computer screen with a camera or a smartphone. You will also need a bit of space to lean back and create a few feet of space between you and the camera. This will be important for the part of the exam that tests your distance vision (visual acuity).
You will likely need your glasses or contacts for your test, so keep them handy. Some online tests only check your vision and only help with prescription renewal. This is useful if you need new glasses or a new contact lens prescription, but comes with real limitations for monitoring your vision health. Keep in mind that you may still need to schedule an in-person appointment with an eye care professional in Knoxville, TN if a problem is detected during an online exam. 
Problems with Online Eye Exams
Online eye exams may be useful if all you want is to update your prescription for glasses or contact lenses. However, not all eye professionals agree on how effective they are. 
Another problem is if you don't correctly take the exam. This could result in an incorrect eyewear prescription leading to problems such as:
Headaches

Sensitivity to light

Blurry vision

Squinting

Vertigo
A good example is your pupillary distance. It can be difficult to measure important factors like pupillary distance at home by yourself without the proper tools and resources. An incorrect pupillary distance reading can cause your prescription to ultimately be incorrect.
Click here
to learn more about the signs of a wrong eyewear prescription!
It's also important to know that online eye tests aren't for everyone. For instance, those with a strong lens prescription will still need to see their eye doctor in person. The same is also true if you are at risk for other health conditions such as high blood pressure and diabetes.
It's important to understand that online eye exams are still no substitute for in-person visits to your optometrist. They may be able to check your distance vision and refractive errors such as astigmatism. On the other hand, they don't provide insight into the actual health of your eyes.
Why You Need an In-Person Eye Exam
The biggest benefit of visiting your eye doctor is getting an in-person comprehensive eye examination. This type of exam does much more than make sure that your lens prescription is up to date. They also help your eye doctor get a clearer picture of your eye health. This is thanks to dilating the pupil which allows them to view the structures of your eyes.
With a comprehensive eye exam, your optometrist can detect eye problems that may go unnoticed until it's too late. This includes eye problems and diseases such as: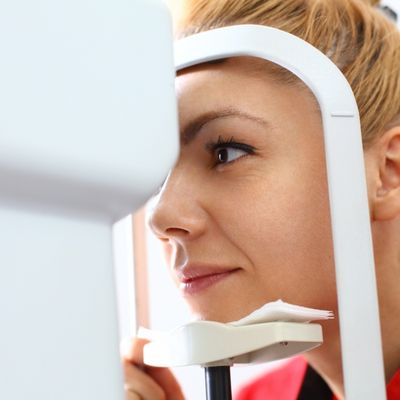 Cataracts

Glaucoma

Macular degeneration
Cataracts are a common age-related eye problem. They're caused by proteins in the lens of the eye gradually clumping together as you age. Over time, they cause your vision to become cloudy or even fully obscured if not treated properly. 
Glaucoma usually occurs when the optic nerve becomes damaged due to high pressure within the eye. As the disease progresses, the optic nerve's tissue is gradually eroded. This results in the loss of your side vision, also known as your peripheral vision.
As the leading cause of irreversible vision loss for adults 60+, macular degeneration needs to be detected and treated early. It affects your central vision and can go unnoticed for a long time. Lack of detection and treatment can eventually result in permanent vision loss.
Comprehensive eye exams also help us catch overall health problems, as well. This includes issues such as hypertension, diabetes, and autoimmune diseases. In this way, eye exams become about much more than updating your prescription. They become as important for your health as your regular doctor and dentist visits.
To learn more about eye diseases and how they affect your vision,
click here
!
Comprehensive Eye Exams in Knoxville, TN
Since 2009, Hardin Valley Eyecare & Optical has been the leading provider of quality vision care products and personalized optometric services in Hardin Valley, Oak Ridge, and surrounding Knoxville communities. We offer a broad range of services from comprehensive eye exams to the diagnosis and treatment of eye problems, diseases, and conditions. 
Dr. Travis Thompson and Dr. Catherine Abbott, along with the rest of our staff, have made it their mission to provide the highest quality of care to their patients. This includes using the most advanced and state-of-the-art diagnostic tools and technology available. 
We also offer a wide range of the hottest frames from designer brands such as Kate Spade, Maui Jim, Ray-Ban, Georgio Armani, and Tiffany & Co. Do you refer using contact lenses? Ask us about daily contact lenses for the best in comfort and eye safety.
Do you need a comprehensive eye exam in Knoxville, TN?
Contact us today
to schedule your appointment!
You need a smartphone or computer in order to take an online vision exam. Despite fitting your schedule, they don't provide as many visits as an in-person exam with your eye doctor. Hardin Valley Eyecare & Optical has been providing high-quality eye care to Hardin Valley, Oak Ridge, Knoxville, and the surrounding area since 2009, including comprehensive eye exams. We offer convenient appointment times including Fridays and Saturdays. 
​​Hardin Valley Eyecare & Optical has been serving Knoxville since 2009. Dr. Travis Thompson and Dr. Catherine Abbott specialize in the diagnosis and treatment of a wide array of eye diseases, conditions, and problems and are committed to improving the quality of life in the Knoxville community through enhanced vision. Located at 10904 Spring Bluff Way, you can schedule an appointment online or give us a call at (865) 888-0892.